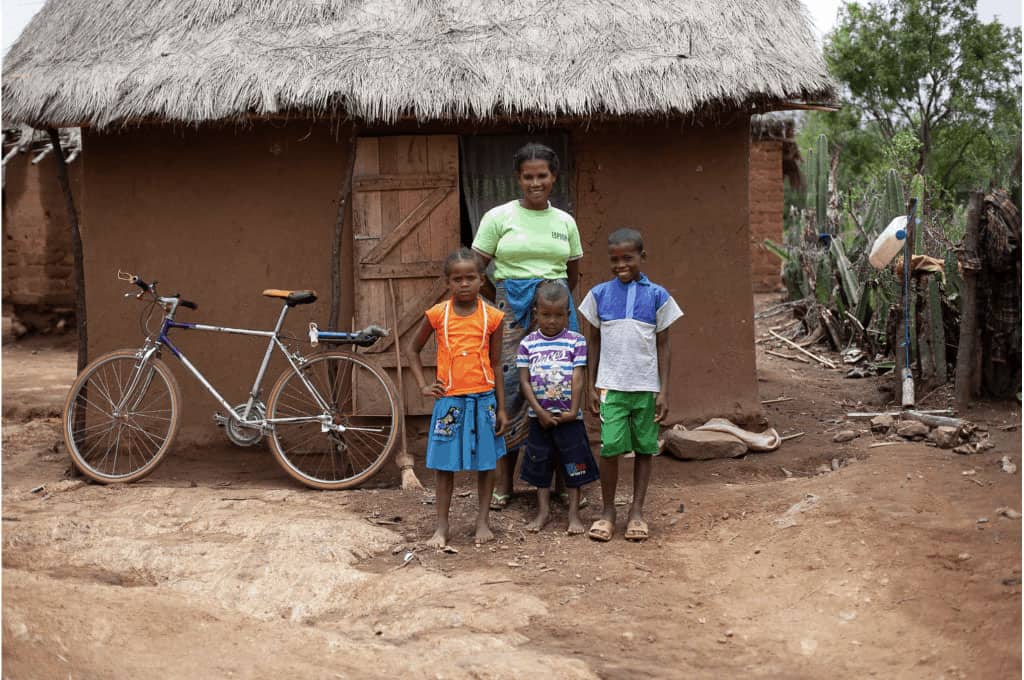 Before 2015, Emilienne was always frowning. The mother of four in Madagascar had good reason: her husband had left her, her children were hungry, and she could not afford any school fees.
"I used to be so worried all the time," the single mother said. "When people would talk to me, I couldn't even listen because of my worry."
Then, in 2015, Emilienne learned about the ADRA food security project in a town called Bikily. Because of her vulnerable status as a female-headed household, she qualified as a beneficiary. Soon after, she began her agricultural education.
Now, thanks to her training and access to farm tools and drought-resistant seeds, Emilienne is the owner and operator of a successful farm.
"I plant sorghum, sweet potatoes, cassava, and pumpkin," she said. "It is important that I can grow what I eat. I don't have to buy food anymore."
The field in which Emilienne is standing, a wide swath of rich soil surrounded by the scrublands of southern Madagascar, provides more than enough to feed and clothe her family, pay the school fees, and invest in a future.
Her primary crop, cassava, covers the whole field for the season, and will yield four oxcarts full of the staple tuber. Two oxcarts she will save and eat; two oxcarts she will sell.
The math is simple, but life changing: Emilienne has 600 cassava plants. Each plant will grow 20 tubers per season. Twenty tubers can earn 1,200 ariary (about $.50). By the end of harvest, she will save 300 hundred bushels to eat and sell the other 300 for about $150 USD.  
The sum may seem low to American standards, but in Emilienne's little village, that money means everything to her family. It means her children will go to school with food in their bellies and shoes on their feet. It means she can send her firstborn to the secondary school an hour away. It means she can buy furniture for her one-room home, and even think of moving into a two-room home someday. 
"My kids are happy," Emilienne said with a big smile. "They have shoes, good clothes, and breakfast every morning."
In this drought-prone region of Madagascar, clothes and consistent meals are often hard to come by. It is a fact Emilienne knows well, and she plans to teach her children how to avoid the poverty and starvation that is so prevalent in this community.
"I hope my children will one day become civil servants," she said. "But if they do not succeed in school, I will teach them to succeed as farmers like me."
"Before ADRA I was always frowning," she added. "Now I am in control of my life. I am self-sufficient. I am confident and happy."