ADRA is blessed to meet amazing mothers in our work every day. These are the kind of mothers who would do anything, give up everything, and go anywhere for their children.
Mothers like Masha and Glendys.
These two women have lived vastly different lives, but they are united by the lengths they have gone for their families. Their home countries are at the center of two of the world's largest humanitarian crises, Masha in Ukraine and Glendys in Venezuela.
The conflict in Ukraine brought falling bombs to Masha's community and armed soldiers to her street. The crisis in Venezuela took the life of Glendys' first born as the country lacked the basic health services the little one needed to survive.
It was in these moments that each woman made the desperate decision that millions of parents around the world have had to make: to uproot their lives and leave everything behind in pursuit of safety and a better life for their families.
Masha's escape from Ukraine with her children was every mother's worst nightmare.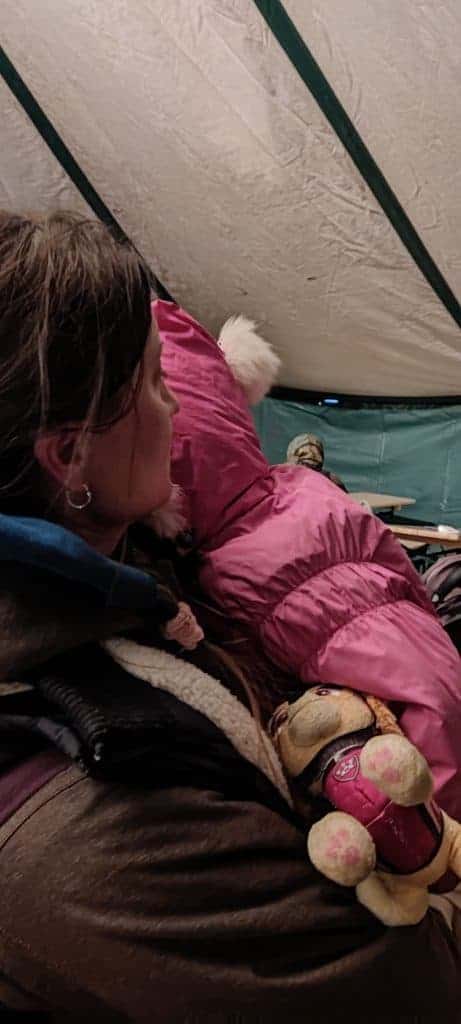 Like other men of fighting age in Ukraine, her husband wasn't able to evacuate the country with them so Masha was on her own with their two little ones. The occupying soldiers in her neighborhood allowed them passage to leave, but the only way for them to travel was on foot.
The mother and children followed a "green corridor," which is a route designated to guarantee the safety of those evacuating. Unfortunately, the road that was supposed to take them away from danger instead put them directly into the path of it.
When Masha came to a broken bridge that stood between her family and an unoccupied area where they could safely pass, she thought crossing it would be the worst part of their journey.
As she helped her children carefully cross what was left of the bridge, she saw three military helicopters approaching in the distance. Trusting her instinct, she picked both children up in her arms and climbed into the water below the bridge.
The helicopters opened fire.
The water was cold, and Masha carried her children across jagged pieces of the broken bridge and metal beams covered in mud. When they finally made it across, she had to use all her strength to climb out of the water and up the bank with her children.
The helicopters appeared to be leaving the area, but others in the distance were screaming "Run! Run!" because they knew from experience that the helicopters could return.
Once she reached this group, she was in safe territory and the three were able to make their way out the country.
Masha and the children were exhausted and traumatized when ADRA served them at the center for refugees in a neighboring country, but their experience is far from over.
War has no timeline, so while she is grateful her children are now safe, Masha has no idea when she will be reunited with her husband or when they will see home again.
After two years away from Venezuela, Glendys is on her way home now.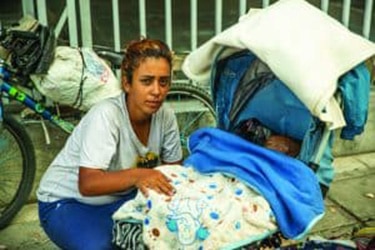 She pushes her 7-month-old in a stroller and she carries their things in a heavy pack on her back. She has already walked more than 300 miles in 22 days to reach Bacuramanga, a Colombian border town where ADRA's team connected with her.
It seems like so much, but her journey is far from over.
Ahead of Glendys lies the Andes, a mountain range with a peak of over 11,000 feet. It's a dangerous path of freezing temperatures, rock falls, and long stretches without access to food or water.
But, it's the only way home.
Glendys knows all too well that the life she once knew will not be waiting for her. Every step is taking her back home, where she buried her first child. Back home, where poor healthcare, inadequate food, and the lack of opportunities pushed her to leave.
Back home, where things are worse than when she first left.
But, the young mom is determined to see her relatives, probably for the last time. Her baby's face is reminding her more and more of the son she lost, so she hopes the visit will also convince her that her difficult decision to leave was the right one for them.
Natural hazards are not the only ones facing Glendys and the group she's found to travel with. Sleeping on the streets in tarps and coats exposes them to people willing to take advantage of them. They have been taking turns sleeping, but still had their food stolen from them.
The thought of keeping her child safe is all that drives Glendys now. After her visit to Venezuela, she will leave again and find a new home where her baby will have a future.
Masha and Glendys are amazing women, but they are only 2 of the millions of mothers who have stories just like these.
ADRA has been serving displaced individuals and families around the world since our earliest days, and we are so grateful for your help. Together, we will continue to provide urgent assistance and essential resources for those who have had to flee their homes in every corner of the world.