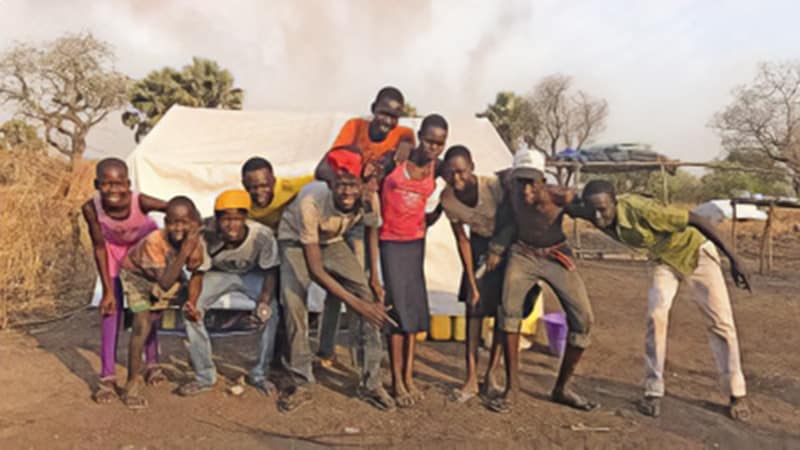 Meet Philip (in the red hat) and his siblings. They are from South Sudan, but violence forced them to flee to Uganda. In this video, they take us on a tour of the space they now call home.
Violence erupted in Philip's community in December, forcing him and his brothers and sisters from their home. They spent three days on foot, walking through bushlands to avoid groups of armed men, to find safety in Uganda.
Everything you see in the video is everything that the siblings now own. They carried it with them—mattresses on their heads and heavy packs in the children's arms.
The kids are now on their own with Philip in charge. They have had no contact with their parents since fleeing South Sudan; neither know whether the others are alive or when they may see them again.
Home is now a refugee shelter—all of their heads share the single mattress while their bodies lay on the hard ground. But they are thankful that they can sleep at night, far from the sounds of gunshots and screams that they left behind.
Philip and his siblings are some of the 800,000 refugees who have arrived in Uganda from South Sudan in recent months, fleeing the violence. In March alone, around 2,800 South Sudanese refugees were arriving in the small country every single day.
Uganda has one of the most compassionate refugee policies in the world, welcoming close to 2 million total from neighboring countries, even while their own resources are stretched. Refugees are granted a plot of land where they can build a home and plant garden, as well as travel rights that are often denied to refugees in other countries.
But as the refugee population grows, resources become scarcer. ADRA Uganda has stepped up to help provide clean water, sanitation solutions to prevent the spread of disease, cooking stoves, and hygiene supplies for refugee women who have had to leave even the basics behind.