2 Billion Without Access to Sanitary Toilet
According to the CDC, diarrhea kills more than 800,000 children under the age of five every year. Of those deaths, 88 percent are the result of unsafe drinking water, inadequate availability of water for hygiene, and lack of access to sanitation. One man in Southern Madagascar intends to change that for the children in his community.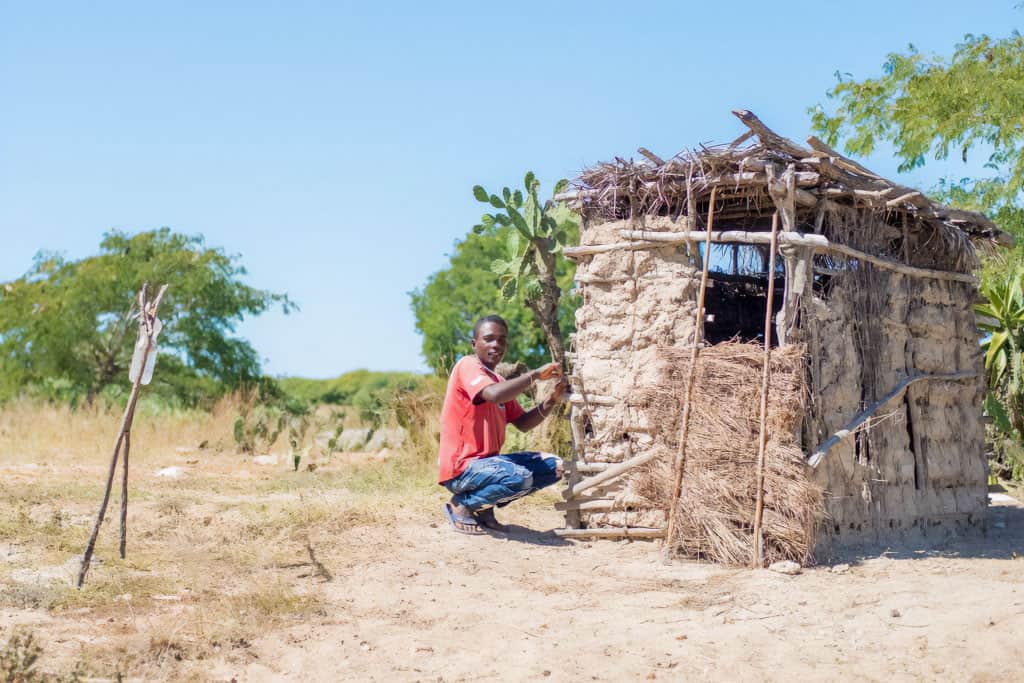 Tamasoa Builds Community's First Latrine
Tamasoa lives in a small village, but he does not have a small perspective. In a region where ancient beliefs and practices are rampant, the 27-year-old is ahead of his time.
He believes, for example, that a man should prepare food for his wife if she is about to go work in the field. In addition, he believes a man should not make his wife carry water if she is pregnant, and that he should hold the baby if it is crying when his wife needs to rest.
Though these progressive messages are not always well received by the other men in his village in Southern Madagascar, Tamasoa has built a reputation as a man worthy of respect. It is a reputation that he earned after working with ADRA to solve the health crisis in his community.
"Before, many kids were sick with diarrhea," Tamasoa said. "The first time ADRA Field Agents came here . . . they had a meeting with us and asked us what the biggest issue is. We said: 'our kids are sick and have diarrhea.'"
Tamasoa was part of that meeting, and he was determined to learn and implement the necessary solutions.
"Our kids are sick and have diarrhea."
Today, everyone in his village is well aware of the science supporting hygiene, the causes of diarrhea, and the immense biological toll such health issues create, but back then not even Tamasoa understood the basic issues.
"Before, we defecated in the open and we had feces scattered everywhere in the field and in the courtyard," Tamasoa said. "Anytime we would go to relieve ourselves, we didn't even wash our hands. Then we would prepare our food with the dirty hands."
During additional community meetings with ADRA Field Agents, Tamasoa began to learn more about basic health and sanitation. He learned that it is important to have a pit latrine because the waste can be contained and covered, instead of out in the open where animals can transmit bacteria from fecal matter. He also learned about the tippy-tap, a system that requires only a container with soap or ash, a bottle of water, and a simple frame from which to hang it for ease of handwashing access.
Equipped with all this knowledge, Tamasoa was ready to change the lives of his neighbors forever. There was just one obstacle.
Because honest discussions about health topics are often considered taboo in rural parts of Madagascar, the community members continued to live as they always had—defecating in the open, not washing their hands, and accidentally contaminating food with fecal matter.
Tamasoa knew his friends and family would not learn by words alone—they needed to see the words put into action. After his final ADRA meeting, Tamasoa went home and spent a week digging a latrine and building a wood and grass privacy screen.
"I was the only one to build the latrine in the beginning," he said. "My children became healthier as a result, and when the community saw that, they became convinced that we should build more latrines."
Thanks to Tamasoa, there are now 6 latrines for the 15 households in his immediate community, and they have plans to build more. Now, everyone knows to use the latrine and to wash their hands after.
"Everyone practices that behavior now," he said. "We really see that we are healthier as a result."
"My children became healthier as a result, and when the community saw that, they became convinced that we should build more latrines."
Not only has the health of the community improved, the appearance has, too. The grounds are raked and smoothed, the houses are all tidy, and enclosed latrines are built throughout the village.
"We are really happy because we are healthy now," Tamasoa said. "That is what makes us happy. We know that is the result of the ADRA project. We are now willing to apply what the project teaches us because we know it is good for our wellbeing."