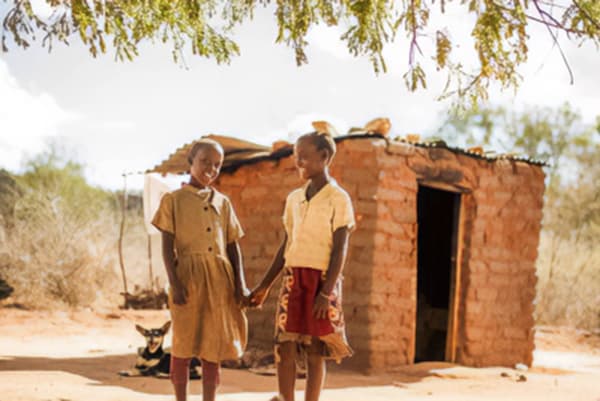 It seems as if Adia and Endana have always led a difficult life. In 2013, when the sisters were only 6 and 7 years old, their mother died, and soon afterward their older brothers left to find food and work. To this day, they haven't returned.
With a tear in her eye, Adia added, "Then the same year, our father died and we were left alone."
Adia and Endana were now left to fend for themselves in a rural village in Kenya. Can you imagine–two young girls left to fend for themselves in the middle of what has so far been three years of deadly drought?
"We were now expected to be adults. It was so hard," Endana said, tears streaming down her face. "It was a burden you just can't bear."
Every day the girls fought to simply survive. They would rise at 5:00 a.m. to walk to school, usually on empty stomachs. After the return journey from school, one of them would walk the mile and a half to fetch water from a dirty water point, while the other stayed home to clean and cook–if they had any food, that is.
"Three days of the week we have no food and sleep hungry," Adia explained.
On top of it all, with no male family members present, the girls worried about their safety.
"We are afraid of staying by ourselves, alone as two young girls," Endana said. "Bad people can come and harm us."
This is a fear that no child should have!
Adia and Endana still struggle, lacking the most basic of necessities, and their wishes are simple.
"I wish I could have some new clothes, soap, and food," said Adia.