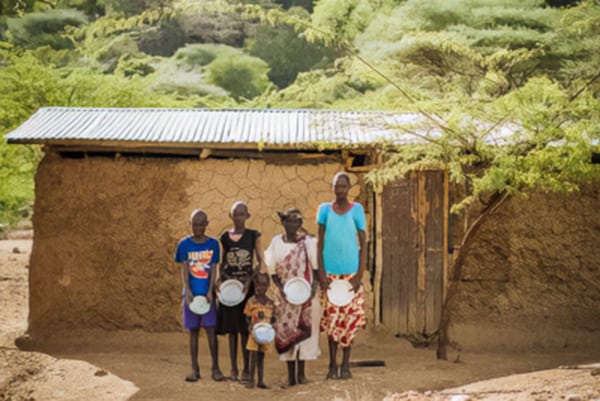 We met Jennifer and her family just a few months ago. They are in the middle of a food crisis in Kenya. When we heard her story our hearts went out to her.
Jennifer lives in West Pokot, right in the middle of a severe famine. There is hunger everywhere in the area and when we visited it was very apparent. As we drove the few kilometers to Jennifer's village, we saw three dead cows by the road.
Jennifer takes care of her children and four grandchildren. The youngest, little Joshua, is just 4 years old.
Here is what she said about their situation: "I had eight children; six of them died. All of them died under the age of 5. I was troubled by the fact that my children died, one after another. I couldn't understand why."
Jennifer then explained how her daughter Paulina never got married but had four children of her own and left them with Jennifer to take care of: "One day she left us and never came back. She died in December of 2015, and the children are with me."
"I survive by collecting stones and selling them to trucks that will use them to build things when needed. When there is no one who buys stones and I can't sell anything, we go hungry. I have gone one month without selling anything so I have been forced to beg to survive."
"We had a little porridge yesterday, today we have eaten nothing. I will ask our neighbors and hope they will be able to give us something to eat. My children and grandchildren have lost weight and are getting really skinny. One of them was malnourished when she was born and she still is. When there is nothing to eat at home I try to give them some hot water with a little sugar to fill their stomachs. They cry when there is no food."
Jennifer looked into the eyes of my ADRA colleague and poured out her heart. "Not having the ability to feed your own children is awful; it paralyzes you mentally," she shared. "I keep on asking myself, How will life treat my children? There is no food and I can't stop thinking about how my children will survive. Last night I slept for three hours, from 9 to midnight; then I woke up and couldn't stop thinking, How am I going to get food for my children? I still don't have any answer."