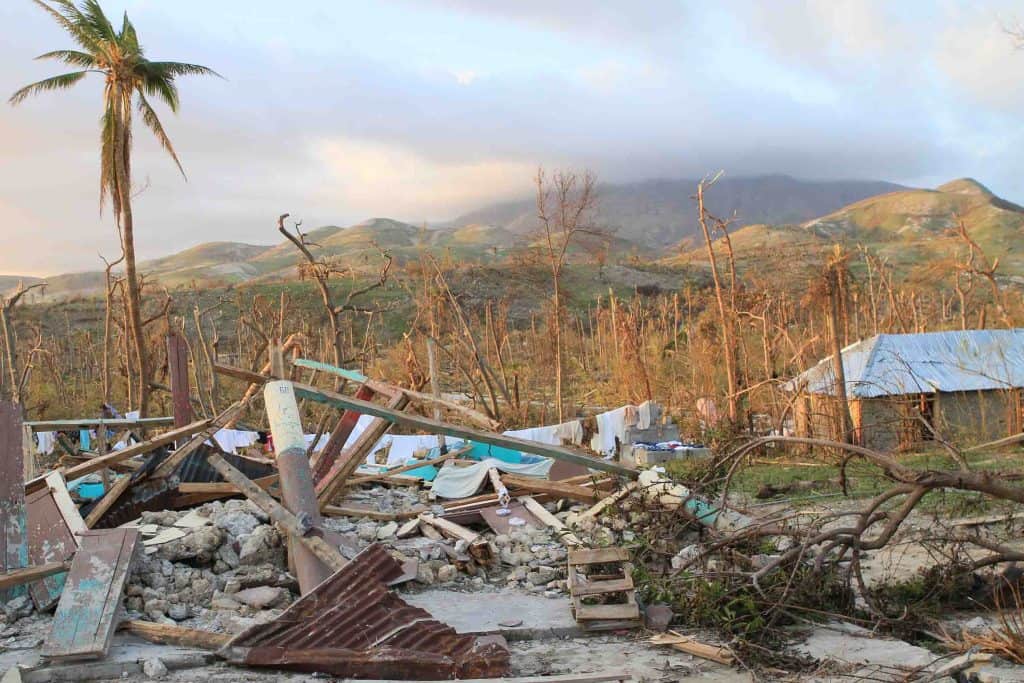 ADRA's response to Hurricane Matthew in Haiti is still going strong. Our disaster relief has reached more than 100,000 people with clean water, food, shelter supplies, and other resources. Today, Joyeuse shares her story with you.
Sixty-year-old Joyeuse Sincere has never lived anywhere outside the uplands of Roche-A-Bateaux in Haiti, the only place she calls home. She has seen one season replace another and despite the destruction of Hurricane Matthew, she does not consider leaving this place.
"I am old, so where else will I go? This is my home," she says, stomping her foot on the ground.
Joyeuse's house used to stand on the rolling terrain of the upland section of Roche-A-Bateaux, surrounded by coconut and banana trees. At the back of her house was her little garden where she planted her favorite flowers as well as vegetables that she would harvest for food.
When Hurricane Matthew hit Haiti on October 4, everything she owned was destroyed.
"I lost everything – my house, garden, and animals. I am thankful that I and my family have survived but I feel sad at the same time when I think of the possessions that we had lost," she laments.
If there is one thing that she would love to do as soon as possible, it is gardening.
"I want to plant again because we are starving. My grandchildren are starving. I don't know how I am going to do that but I will try," she says.
Joyeuse shares the same frustration with her fellow villagers. Everyday they roam around the hills looking for crops and fruits that have survived Matthew's destruction and most of the times would find none. They would also walk three hours to the lowland where Roche-à-Bateaux's market is, begging for money or food.
On October 25, Joyeuse was happy to see a helicopter landing on their grounds.
"I don't know how to read the banner but they told me it's an organization called ADRA. My name was on the list of those who will receive help and I was very glad," she exclaims.
"They were the first people to have come here to bring help. I almost thought we were forgotten but thanks to ADRA, we now have rice, sugar and oil," she says.
ADRA distributed food packs and hygiene kits in Joyeuse's village as part of their Hurricane Matthew response in Haiti. In partnership with Global Medic, ADRA also provided household water purification sets to the families.
You can still help us reach more people like Joyeuse through a donation to our emergency fund.