The Horn of Africa is in a hunger crisis and no country has been hit harder than Somalia.
● 90% of the country's districts are gripped by devastating drought conditions.
● Most of the grain Somalia depends on has been cut off by Russia's conflict with Ukraine.
● Conflict, insecurity, and crippling costs are affecting much of the population.
● Experts warn that the possibility of famine is imminent.
In a crisis like this, it's important to remember that the needs of each person, family, and household can be very different. This is why ADRA's hunger response in Somalia includes providing cash support, which allows flexibility for recipients to decide for themselves what they need most.
Three recipients of monthly cash payments in Somalia shared with us how they are putting the support to use.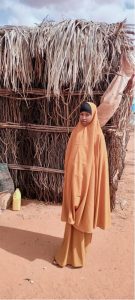 15-year-old Mahado is feeding her two brothers and five sisters.
Mahado became head of her household last year when both of her parents died. The 15-year-old had no choice but to take on the responsibility of raising her seven younger siblings.
That's eight people she needs to figure out how to feed, clothe, and send to school. A huge burden for a young girl!
As a minor, Mahado had very few options for employment, but the monthly cash payments from ADRA make it much easier to buy food and other necessities.
"I received [the money], which I use to buy food," Mahado told us. "I am grateful to whoever has offered that cash and made me and my brothers and sisters happy."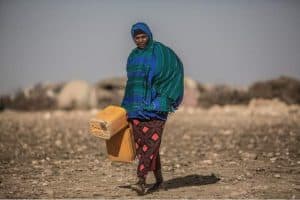 Fatuma is providing for nine children on her own.
51-year-old Fatuma lost her husband in 2020. Now, she is facing this devastating hunger crisis with nine children who depend on her alone.
Fatuma eagerly accepts whatever work she can find. Unfortunately, jobs are few and far between, and a consistent source of income eludes her.
Three of Fatuma's children dropped out of school to help support the family. Even with her children's help, it wasn't enough to care for even their basic needs.
Now, with the cash support she's been receiving each month, Fatuma has an income she can count on. She is still working every odd job she can find but knowing she has enough money for the basics has relieved Fatuma of a heavy burden.
She hopes to send her children back to school very soon.
Ali is paying off his family's debt.
Drought and hunger are not new to Ali. The 67-year-old father of eight lost all of his livestock in 2017 due to prolonged drought conditions, leaving him without a source of income.
Eventually, he relocated his family to a makeshift house in a settlement for others like them who have been displaced by the extreme conditions. Even here, there was little food and few opportunities for work.
By the time COVID-19 hit, Ali was already taking on debt to care for his family. The pandemic only made it worse.
The cash payments from ADRA made it possible to pay back those he owed so that he can focus on going forward.
"Joblessness was an order of the day," said Ali. "I am overwhelmed by debts and struggled to settle them. I received cash support that helped me settle my debts."
Cash assistance is just one way that ADRA serves those in Somalia and in other places where the global hunger crisis is taking its toll on vulnerable men, women, and children. We have ongoing and new food security projects that have been developed in collaboration with trusted partners and communities to prevent famine and build resilience.
Examples of ADRA food security projects include:
Drought-resistant farming practices
Seeds, supplies, and other resources
School lunch programs to feed children and keep them in school
Household and community gardens
Female farmer and cooperative group investment
Maternal and early childhood nutrition education
Farmer field schools to improve methods and marketing