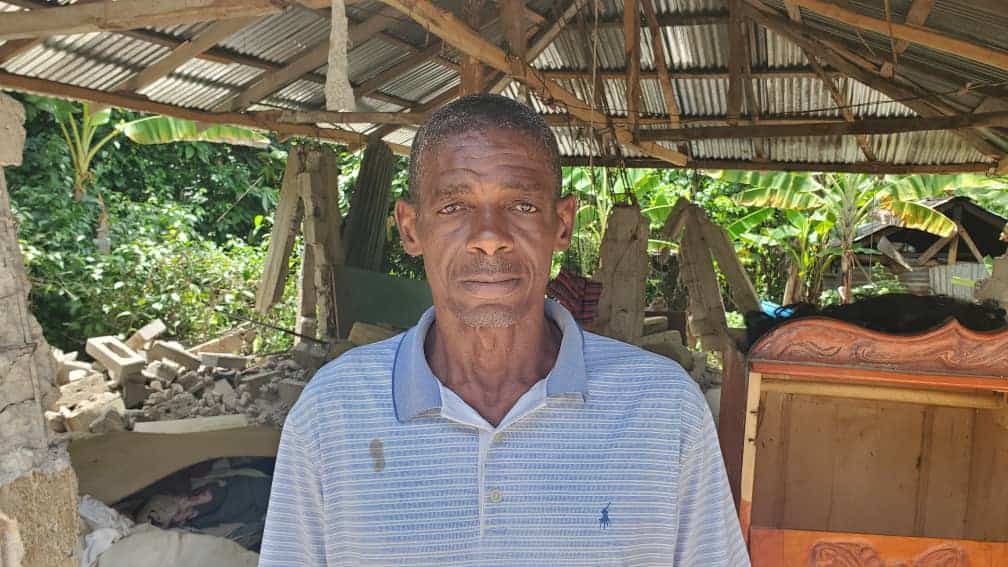 When the 7.2 magnitude earthquake hit Haiti, Dumont was outside his house with several of his children. His wife and remaining children were attending a funeral at a church nearby, and he was completing some last-minute yardwork before joining them at the service.
Dumont heard an unusual noise and he leaned on his shovel to listen. It sounded like rainfall. That's when he noticed his house was shaking.
"Earthquake!" he shouted. He yelled for his children to move away from the building and to lay down in the yard. Flat on the ground, Dumont watched his house collapse into rubble. Finally, the tremors subsided, but the nightmare was far from over.
"When things calmed down, the kids were screaming and asking for their mom," he said. "I told them to stay here and that I was going to find their mother."
Dumont sprinted past scenes of destruction as he searched for his wife and remaining children. On the road leading to the church, he found them waiting in shock, his wife frantically yelling for the rest of her children. Dumont gathered his entire family and his surviving neighbors and escorted them to a field to wait.
"I have been looking for other people, but a lot of people died, people that we knew," he said. "This saddened our hearts."
The earthquake struck southwest Haiti on the morning of August 14, killing more than 2,000 people and injuring more than 12,000. Many are still trapped in the rubble.
Within hours of the disaster, the ADRA office in Haiti deployed a local team to assess the impact to nearby hard-hit communities.
"Their homes are destroyed, or damaged beyond repair, or the structural damage is so great it's simply unsafe for them to try to go back and occupy the homes," said Lisa, the Emergency Relief Coordinator in Haiti. "You have people without homes, without water, without sanitation."
Despite major challenges facing Haiti, including political instability, widespread poverty, and the ongoing COVID-19 crisis, ADRA is working tirelessly to help those affected by the disaster.
"We're focused on getting the basic materials: the hygiene kits, food, water—the very urgent needs," said Billy, the Emergency Response Planning Manager who is in Haiti responding to the earthquake.
Yvrose is one of many in Haiti who lost everything. When the earthquake struck, she was singing a song with her mother. Before she could finish the verse, however, she was interrupted by a horrible sound. The ground began to shake, and her mother fell to the ground.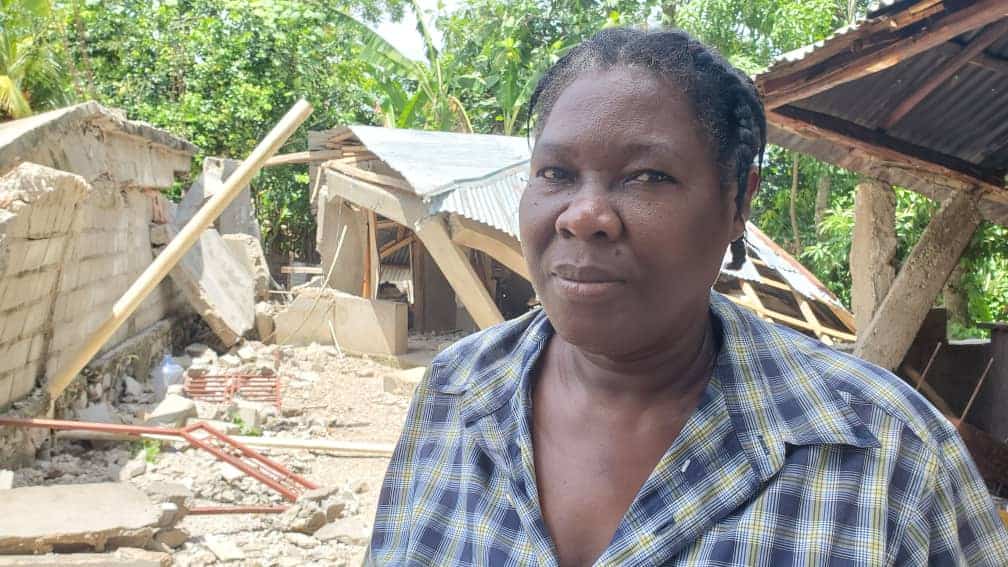 Yvrose helped the elderly woman to her feet and together they ran toward an open field. When the ground stopped shaking, she returned home to find her house was demolished.
This disaster comes on the heels of the COVID-19 pandemic, which has wreaked havoc in Haiti, a nation that has still not recovered from a decade of disasters.
"There's been so many disasters seemingly back-to-back," Lisa said. "You have this earthquake that happened, but you have pre-earthquake needs that are here. You have people who have been displaced by gang violence, and people who are still recovering from Hurricane Matthew, and you still have the pandemic that every country around the world is struggling to cope with. The needs are plentiful across all sectors."
Dumont is happy that his family survived the disaster, but he does not know how they will recover.
"We are asking ourselves how we are going to move on," he said. "Personally, I don't have any means to build another house to live in. All the possibilities I had were invested towards the education of our kids. Now, we are left with nothing in our hands."
ADRA continues to serve people like Dumont and Yvrose. ADRA was active in Haiti before this most recent earthquake and will remain active to help the most vulnerable who lost everything in the disaster.
"ADRA is meeting the needs of the people," Lisa said. "The ADRA Haiti office is very well connected to this community and very well respected here."
"ADRA is not here temporarily," Billy added. "ADRA has been here and is invested in the community."