While the COVID-19 crisis continues to evolve, one consistency is that the world's most vulnerable communities continue to face the greatest threat. ADRA's response to the pandemic works with these communities to provide resources for overwhelmed medical systems, support critical awareness campaigns, help people get back to work and school, and so much more.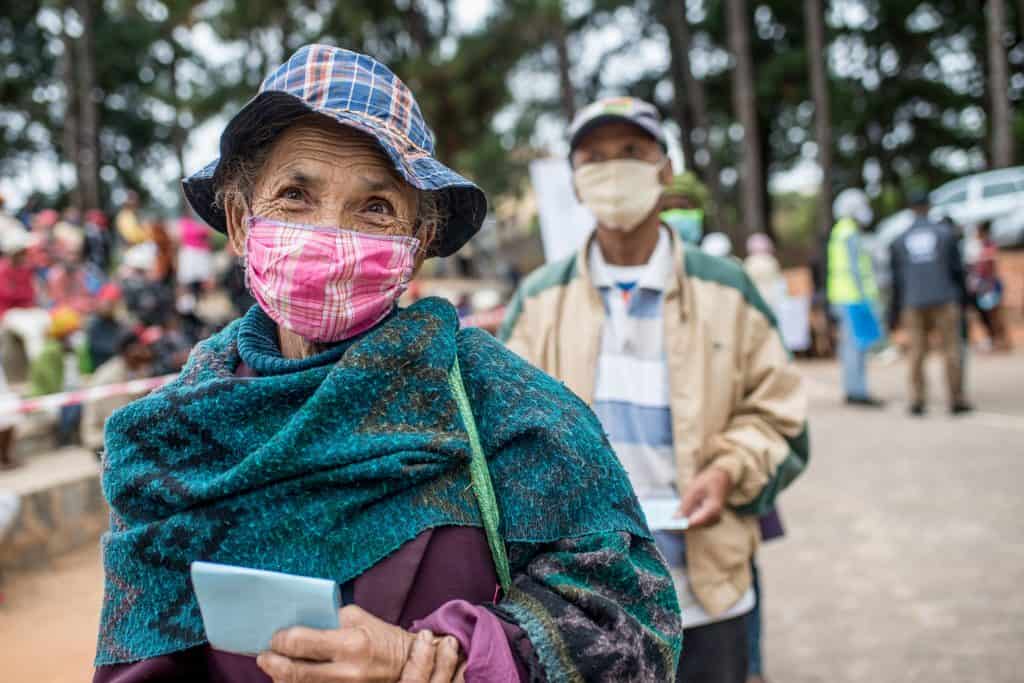 A Global Response to a Global Pandemic
An interrupted education leads to children with fewer opportunities for a bright and prosperous future. Thanks to donations to our COVID-19 campaign from ADRA supporters in 2021, we have launched four new projects focused on supporting education in emergencies to ensure that children are able to get back on track!
In Syria, 28 classrooms are being constructed to support more than 1,000 children. This includes resources for non-formal learning, appropriate facilities for students with disabilities, and training for teachers and staff.
In Peru, centers for tutoring, technology, and remedial learning are being established. Migrant, refugee, and host community children will be able to study, as well as improve communication skills.
In Mali, classrooms are being constructed or refurbished for displaced students who will also be supplied with school supply kits. In addition, new boreholes for clean water and sanitary latrines will be provided, and training will be provided for hygiene and more to improve conditions.
In Sudan, more than 3,000 children and adolescents will have access to protective learning spaces, materials and furnishings for learning and recreation, and sanitary latrines and water facilities. Community based groups will also be trained and mobilized to prevent violence, abuse, and exploitation of boys and girls.
Vaccine scarcity in many of the places where ADRA works is undermining the ability to stay in front of new variants. We are helping communities gain access to the COVID-19 vaccine so they can regain access to their livelihoods, classrooms, and more. These efforts include:
Supporting local efforts to dispel misinformation and educate communities regarding COVID-19 and the vaccine.
Providing support and vital resources to clinics and medical staff.
Supporting campaigns to raise awareness of vaccine availability.
The COVID-19 pandemic has undone years of positive progress on world hunger with millions more people now going hungry. We are helping to provide sustainable solutions in communities worldwide in ways that include:
Training community members to teach gardening to others, so homes and communities have a sustainable source of nutrition.
Introducing crops and agricultural methods to farmers that increase sustainability with limited resources.
Funding the expansion of food pantries in the United States with partners Adventist Community Services.
Emergency food supplies for those in the harshest circumstances.
While we work with communities to prepare for what's next, our global response continues to include areas of crisis when case numbers surge and local health systems are overwhelmed. This is an unprecedented level of emergency response that includes:
Partnering with Adventist health facilities worldwide for an appropriate response led by medical professionals.
Providing critical oxygen supplies, including several oxygen generator plants for hospitals across India following a massive surge in cases that crippled the country's medical system.
Delivering medical supplies, PPE, furniture and equipment for COVID-19 and emergency wards, testing supplies, medication, and much more to medical facilities and staff.
Working with clinics to promote awareness and information about COVID-19 prevention, treatment, and vaccine access.
View Our Global COVID-19 Report
Sign up for ADRA's emails to receive updates on our current relief efforts, engagement opportunities, and much more.