(SILVER SPRING, MD) October 18, 2021 — Six shipping containers filled with medical supplies from Adventist Health are on their way to Africa to assist with COVID-19 emergency responses in Ghana, Malawi, Namibia, Uganda, Zambia and the Democratic Republic of the Congo.
This $3 million project is the result of a partnership between California-based Adventist Health and the Adventist Development and Relief Agency (ADRA), the international humanitarian branch of the Seventh-day Adventist Church.
Each shipping container is filled with general medical supplies, personal protective equipment, medication, operating room supplies and mobile medical testing equipment for COVID-19 and other diseases.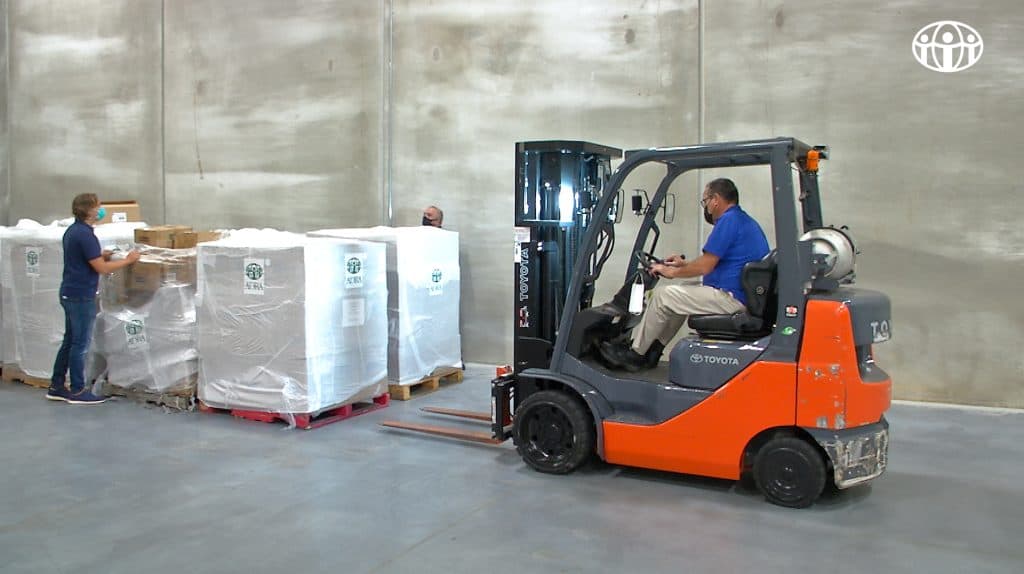 Both large and small health facilities in various regions of Africa have been overwhelmed with demand for healthcare due to COVID-19 infections. Scarcity of vaccines in Africa and challenges to treatment are undermining effective response to the third wave of the pandemic.
Since the COVID-19 pandemic occurred around the globe, ADRA has partnered with local authorities and agencies to ramp up emergency responses to serve nearly 20 million people in 96 countries impacted by the coronavirus.
In Africa alone, where reportedly more than 5.7 million cases of the virus are impacting several nations, ADRA aims to minimize the threat of COVID-19 by providing prevention training, engaging with the community and supplying healthcare workers with PPE, hygiene kits and more.
"ADRA has been responding to disasters for nearly 60 years and continues empowering and serving people facing global crises through the support of partners, such as Adventist Health. Thanks to their generous contribution, frontline workers in Africa will get the necessary equipment to protect themselves as they work to combat the COVID-19 pandemic and serve many lives," said Alex Balint, ADRA's director of corporate and social partnerships.
ADRA will assist Adventist Health with distribution of its medical supplies as they arrive at their destinations.
"This global health initiative is part of the Adventist Health commitment to engage in meaningful expressions of God's love in communities in need of health, wholeness and hope," said John Schroer, Global Missions system lead for Adventist Health, which serves more than 80 communities on the West Coast and Hawaii as well as others throughout the United States through its Blue Zones company.
This shipment is just one of several projects that Adventist Health and ADRA are partnering on around the world and is the second round of supplies sent to Africa as a result of the partnership. A third shipment is scheduled for February 2022.
Learn more about this project and watch the ADRA team in action in our latest video below.
Journalists who wish to secure interviews for this story, may email press@ADRA.org.
About Adventist Health
Adventist Health is a faith-based, nonprofit integrated health system serving more than 80 communities on the West Coast and Hawaii as well as others across the U.S. through its Blue Zones company, a pioneer in taking a systemic and environmental approach to improving the health of entire cities and communities. Through this work, Adventist Health is leading a 21st century well-being transformation movement. Founded on Seventh-day Adventist heritage and values, Adventist Health provides care in hospitals, clinics, its innovative Adventist Health Hospital@Home program that provides virtual in-patient care at home, home care agencies, hospice agencies and joint-venture retirement centers in both rural and urban communities. Our compassionate and talented team of 37,000 includes associates, medical staff physicians, allied health professionals and volunteers driven in pursuit of one mission: living God's love by inspiring health, wholeness and hope. Together, we are transforming the American healthcare experience with an innovative, yet timeless, whole-person focus on physical, mental, spiritual and social healing to support community well-being.
About ADRA
The Adventist Development and Relief Agency is the international humanitarian arm of the Seventh-day Adventist Church serving in 118 countries. Its work empowers communities and changes lives around the globe by improving health, increasing livelihoods, providing access to education and responding to disasters. ADRA's purpose is to serve humanity so all may live as God intended.