people killed,
including children
aftershocks
post earthquake
refugees
impacted by crisis
people injured
from catastrophe
On Monday, February 6 at 4:17 am local time, a 7.8 magnitude earthquake hit Türkiye and Syria, including a 7.5 magnitude earthquake that struck Türkiye and countless aftershocks.
The earthquake has been reported as one of the deadliest in two decades. 
ADRA is providing various services to assist survivors including food, water, shelter, blankets, and other winterization items. 
ADRA is also working to repair water networks to provide access to water for thousands of people in hard-hit areas. 
Rally your friends and family to donate to ADRA's Emergency Fund, which helps communities affected by the earthquake and other global emergencies.
One of the most effective ways you can support ADRA is to give monthly.
Pray for the survivors, first responders, country leaders, and everyone impacted.
Video updates from the field
Make sure to click on the "hamburger menu" on the top right corner to see more videos.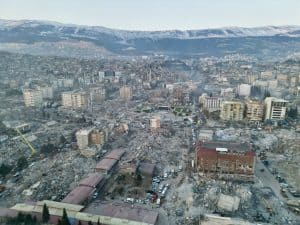 ADRA Continues to Deliver AID at Ground Zero SILVER SPRING, MD (February 22, 2023) – A second major earthquake and dozens of strong aftershocks hit the
Read More »
Here are some resources available about ADRA's response to the earthquake in Türkiye and Syria to share with your church. 
If you have any questions or need anything else, please let us know at churches@ADRA.org.