Kayakars used vacation time to bond and support ADRA's Pandemic Hunger Relief Campaign
SILVER SPRING, MD (August 2, 2021) – After facing rough tides, mosquitoes, and battling extreme heat, Hearly Mayr, 49, and his 13-year-old son, Andreas, finally reached the last stop of their 200-mile (320 km) kayaking journey down the Chesapeake Bay on Friday, July 30. The Chesapeake Bay is the largest estuary in the United States and is a world heritage site that spans over 64,000 miles (166,000 km).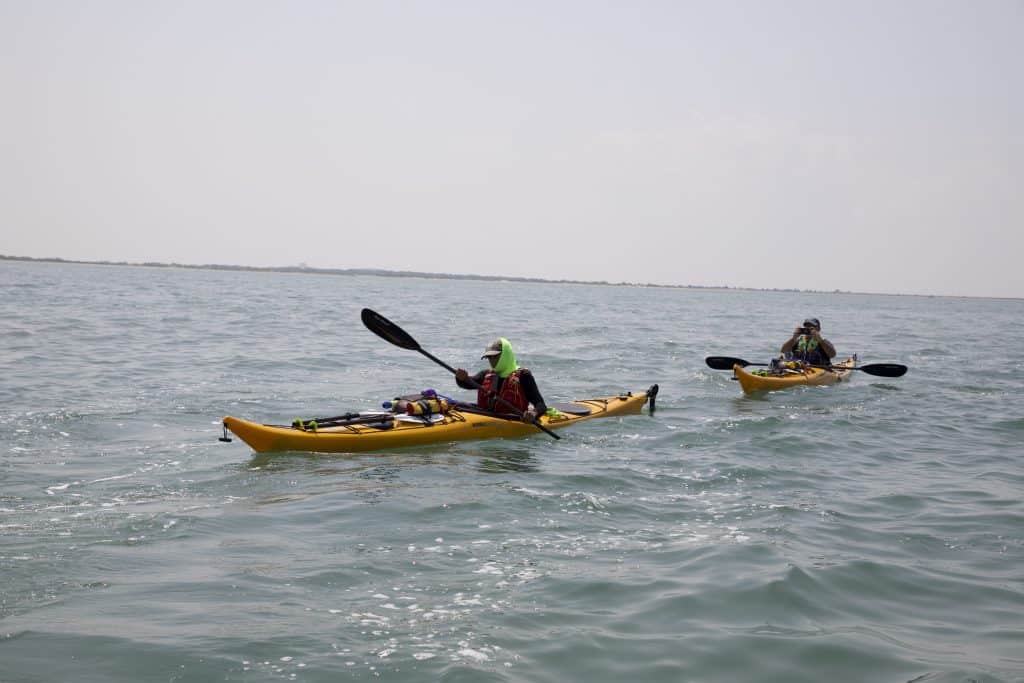 The duo started their adventure on Friday, July 16 at Elk River in Elkton, MD where family, friends, representatives from the Adventist Development and Relief Agency (ADRA), the Atholton Adventist Academy where Andreas is an 8th grader, the New Hope Adventist Church where both father and son attend services, the North American Division, and the local community met with them to share well wishes, pray, and cheer them off.
As they kayaked down the Bay, the Mayrs made a few stops to rest. At one point, their trip was delayed due to a rainstorm, and they decided to take a day to weather the conditions. The pair aimed to make the trip in 12 days but completed the journey in 15 days. Hearly Mayr also updated his followers on Instagram and Facebook on almost a daily basis, encouraging people to donate to ADRA's cause.
Making a Difference by Doing
Hearly Mayr shared that he and his son did this feat to let the community know that even though the pandemic is easing in the U.S., people around the world are still facing hunger.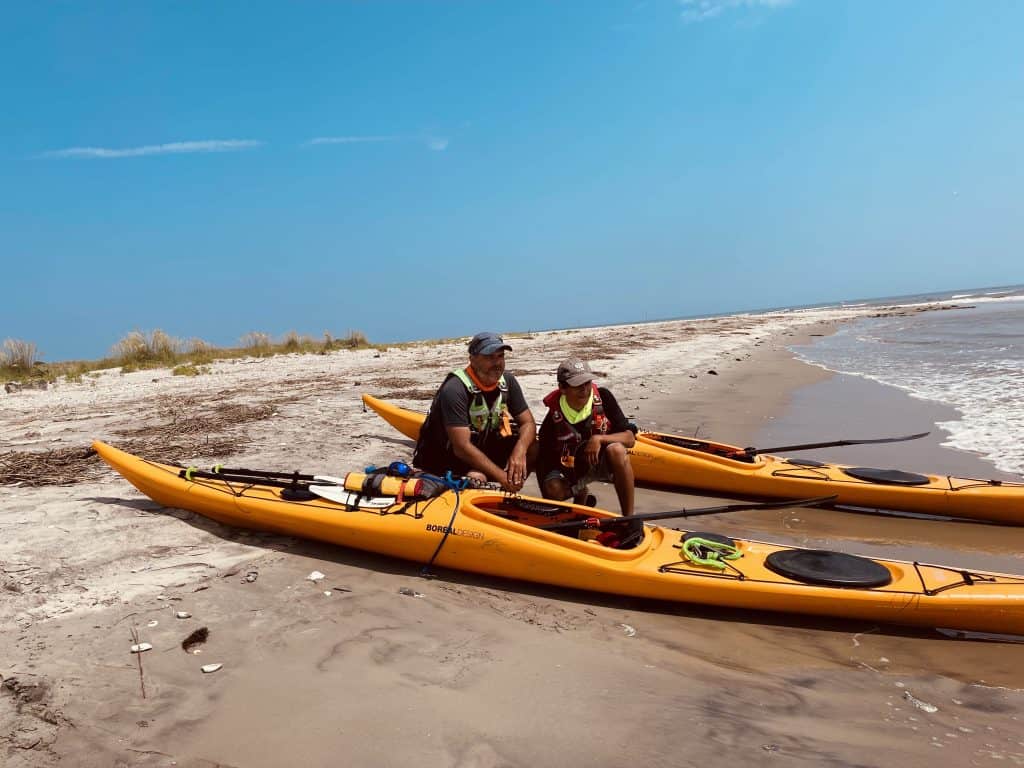 "We have so much to be thankful for. We have jobs, healthcare, access to school, a home, food, and so many other things. Sadly, many people here in the U.S. and around the world can't say the same. As we counted our blessings, we knew that we had to do something to help others. That's why we decided to use our summer vacation to launch the Bay 200 Challenge to let our community know that even though the pandemic is easing in the U.S., people here at home and in other countries are still facing very serious COVID-19 related challenges each day, especially hunger," Mayr says.
Thanks to the Mayrs, Bay 200 Challenge supporters and supporters for ADRA's pandemic hunger relief campaign, ADRA surpassed its fundraising goal with a total of US$9.9 million on July 31. Proceeds will help families worldwide get access to food and other essentials who have been hit hard by the COVID-19 pandemic. More information about ADRA's COVID-19 relief efforts at: https://adra.org/update-covid-19-hunger.
"We congratulate Hearly and Andreas on this huge achievement. There are so many ways they could have spent their summer, but they chose to raise awareness and funds for communities that on a daily basis travel huge distances to access water, education and healthcare. ADRA thanks Hearly and Andreas for their support but most importantly their commitment to alleviating poverty," says Matthew Siliga, ADRA's vice president of marketing and development.
"What Andreas, a pathfinder from the New Hope Nighthawk Pathfinder Club, has done in the last few weeks has been remarkable. He looks like a typical 13-year-old, but his resilience and growing desire to make a difference is an example to many," says Armando Miranda Jr., North American Division associate director for youth and young adult ministries. "Pathfinders are proud of Andreas for the difference and the impact that he and his father, Hearly, were able to make through this challenge. We hope that many more pathfinders realize that they too can be influencers and agents of change, and that they don't have to kayak or do something big, but they can do similar things in their communities to bring awareness to important issues."
Paddling to the End
Supporters of the father and son, drove hours to the eastern shore in Virginia to celebrate the family's achievement in person at their last stop. In attendance were the principal, students and staff from the Atholton Adventist Academy, the Mayr's pastor and members from the New Hope Adventist Church, along with ADRA staff members and a representative from the Cornerstone Seventh-day Adventist Church, locally based in the area.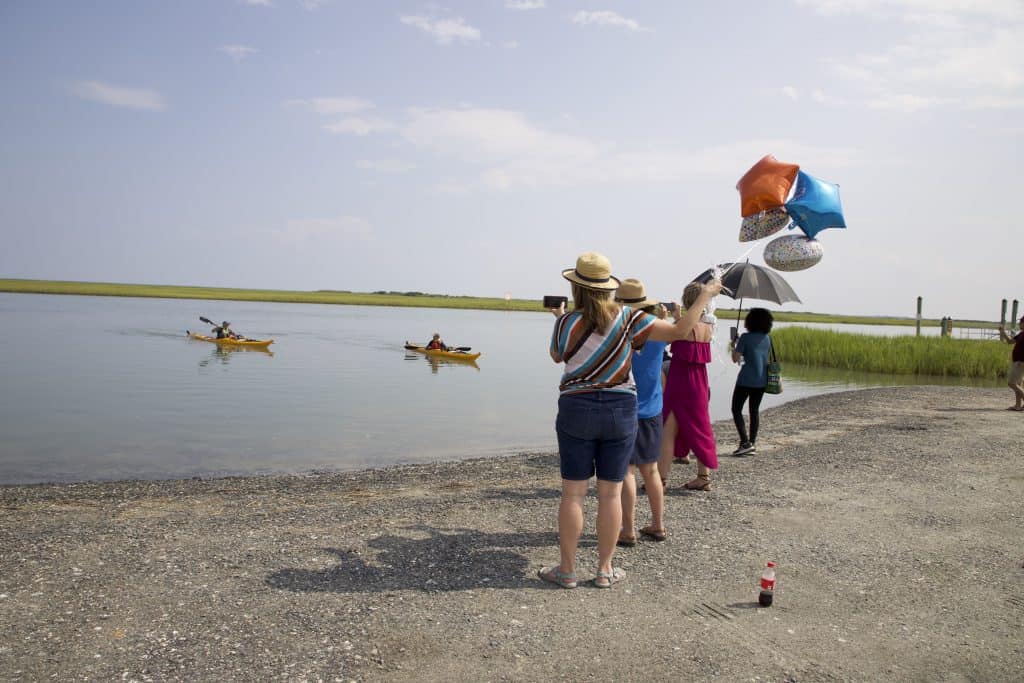 "Andreas' classmates, school, and teachers are proud of him for paddling this impressive mileage of the Chesapeake Bay under some grueling conditions," says Miya Kim, principal of the Atholton Adventist Academy. "What a wonderful way to help educate others around the world due to the devastating effect of COVID-19. Young people will be inspired by Andreas' grit, determination and will use his experience as a way to make a huge difference in the lives of others."
"We prayed for them through the journey and are happy they've returned unharmed. We couldn't be prouder. With incredible endurance and resolve, Hearly and Andreas demonstrated what it means to be a New Hope member—living the kingdom of God wherever you are—empathizing, guarding, and loving their neighbors," says Marilyn Scott, pastor of the New Hope Seventh-day Adventist Church.
The pair were each awarded by ADRA with a blue crystal star trophy as a public expression of appreciation for their creative way of bringing awareness to the pandemic hunger relief and accomplishing the feat despite obstacles.
WGTS 91.9 also recognized the father and son with a "Hometown Heroes" award during an on-air appearance for "going above and beyond to make a difference."
Additionally, 13-year-old Andreas was honored with a kayak patch by Pastor Scott on behalf of the church's pathfinder club for fulfilling and satisfying recreational requirements for kayaking. Pathfinder honors, which total 693, are awarded to young people, ages 10 to 15, who demonstrate various knowledge and skills that aims to build a young person's personal growth, spiritual discovery, service to others, health and fitness, outdoor living, and study of nature.
Andreas was also awarded a certificate of appreciation by the Atholton Adventist Academy, along with an undisclosed monetary gift.
True Overcomers
As the Mayrs pulled up to the shore met by the small group of supporters, it was Andreas Mayr who finished first, despite the look of tiredness on his face. Father and son embraced each other before sharing a few words of thanks.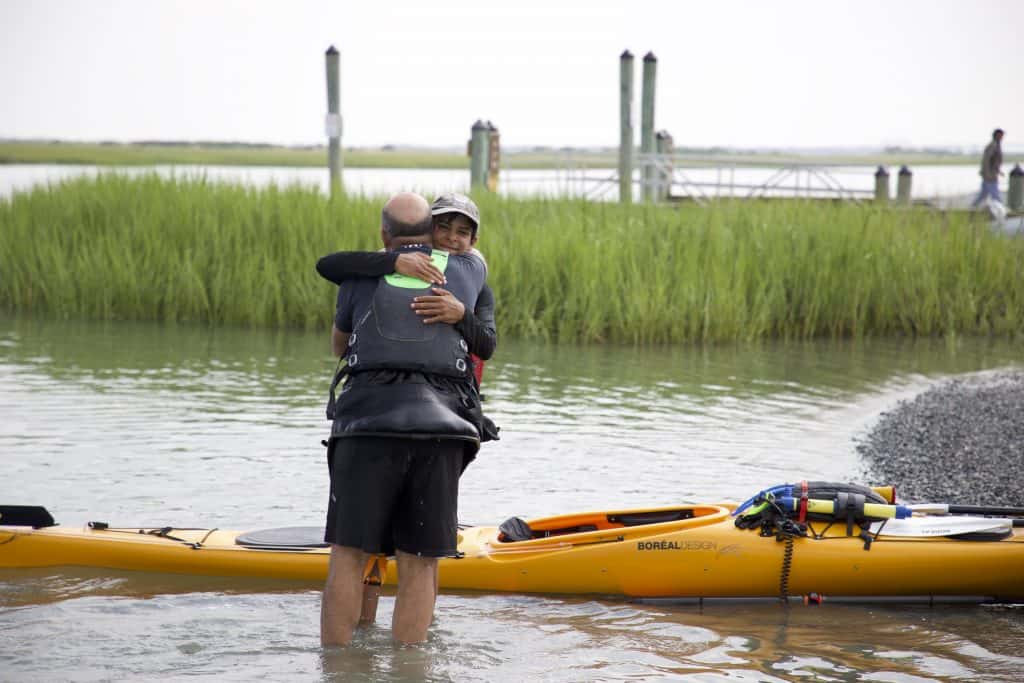 "We learned so much about the Bay, met wonderful and kind people, and felt so motivated every day from our social media followers to just keep going and to finish what we started," says Hearly Mayr, Bay 200 Challenge kayaker. "I encourage more families to find creative ways to spend time with their children and give back to their community. It is an investment worth making."
Mayr adds that though their challenge has been completed, the pandemic remains an ongoing struggle and that the world's most vulnerable are being hit the hardest.
"My Dad would do anything to keep me safe and healthy," says Andreas, "It is heartbreaking to think of fathers around the world who, through no fault of their own, can't do the same." 
At least 155 million people in 55 countries were already acutely food insecure in 2020 and in need of urgent assistance, and those numbers could continue to climb, disproportionately affecting women and girls and low- and middle-income communities. Additionally, pandemic-related disruptions, conflict and climate change, hunger levels in dozens of food-insecure countries are projected to increase to a five-year high, according to the 2021 Global Report on Food Crises.
The Mayrs plan to take a few days to relax and spend time with the rest of their family.
"We're not sure what the next challenge will be, but we are adventurous, so anything is possible. We're just happy to do this together for a cause," Mayr says.
For journalists who wish to secure interviews, email: press@adra.org.
To schedule speaking engagements with Hearly and Andreas, email: churches@adra.org.
About the #BAY200CHALLENGE
The #BAY200CHALLENGE was conceived in 2020 as a father-son kayaking project by Maryland residents Hearly Mayr and Andreas Mayr to spend more quality time together, to test themselves against the outdoors, and to spark a greater desire for exploration and discovery. They hope that others, especially young people, will be inspired to explore nature and to challenge themselves in different ways.
About ADRA
The Adventist Development and Relief Agency is the international humanitarian arm of the Seventh-day Adventist Church, serving in 118 countries. Its work empowers communities and changes lives around the globe by providing sustainable community development and disaster relief. ADRA's purpose is to serve humanity so all may live as God intended. For more information, visit ADRA.org.