(KYRGYZSTAN) July 12, 2021 – The Adventist Development and Relief Agency (ADRA) is launching 39 neighborhood information centers in Kyrgyzstan to create awareness about COVID-19 prevention and vaccination and to help vulnerable people access needed social services during the pandemic.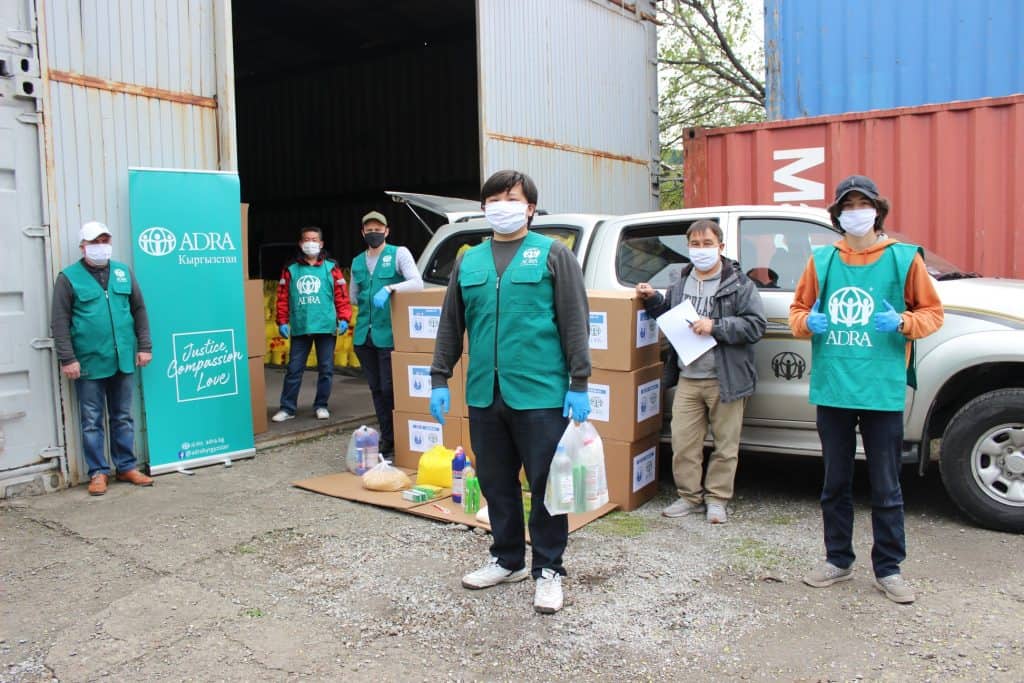 "Lack of understanding of the critical need to adhere to prevention measures has contributed to the spread of COVID-19 in Kyrgyzstan," says Igor Litvinov, country director for ADRA in Kyrgyzstan. "Regarding vaccination, there are two opposing views: some people want to receive the COVID-19 vaccine but do not know how to get it, while others believe false rumors about the vaccine and completely refuse it. At the same time, people are suffering from lost income, high consumer prices, reduced access to health care, threats of domestic violence and other difficulties because of the pandemic but are not aware of services that can help them with their situation."
To address these problems, ADRA developed a plan to make reliable, accurate information more accessible to the community, especially to vulnerable groups such as the elderly, people with disabilities and migrants.
The project will follow a model that has been used successfully by ADRA in Kyrgyzstan for nearly two decades. In each targeted neighborhood or community, ADRA will select 10 to 12 respected, civic-minded individuals to form a "self-help group."
ADRA will train the group members and provide them with information to share with the community about COVID-19 prevention, vaccination and public services such as medical care, psychosocial support, legal assistance and welfare benefits. Each group will open a public consultation and information center in the home of a group member or in a local government building where the public can meet with volunteers to receive trusted information.
"In this country, people traditionally look for a familiar, competent person, such as a relative or neighbor, who can tell them what public services are available and what needs to be done to use them," says Litvinov. "The members of self-help groups are such people, well informed and always ready to help."
Working with the Seventh-day Adventist Church in the region, as well as with government agencies, ADRA is recruiting 390 volunteers to run 39 information centers in six cities and villages in Kyrgyzstan. Most of the groups will operate in the capital, Bishkek. Their services will be promoted through advertising, social media and cell phone messaging.
"These ADRA volunteers will educate their neighbors about how to protect themselves against COVID-19 and connect them with agencies that can help them cope with the financial and emotional hardships caused by the pandemic," says Litvinov.
Coronavirus cases are on the rise in Kyrgyzstan, prompting fears of another deadly wave of illness like the one that the country experienced during "Black July" last year. Kyrgyzstan has administered enough COVID-19 vaccine doses to fully vaccinate less than two percent of the population, according to local reports.
ADRA in Kyrgyzstan has addressed critical needs throughout the pandemic. In 2020, ADRA volunteers distributed 1,280 food kits and 1,280 hygiene kits to elderly people who were isolated in their homes during the country's lockdown. ADRA also raised funds to donate three oxygen concentrators, along with masks, protective overalls and gloves to three hospitals: two in Bishkek and one in a rural area.
Learn more about ADRA's ongoing COVID-19 response at ADRA.org.
Journalists who wish to secure interviews for this story, may email press@ADRA.org.
About ADRA
The Adventist Development and Relief Agency is the international humanitarian arm of the Seventh-day Adventist Church serving in 118 countries. Its work empowers communities and changes lives around the globe by providing sustainable community development and disaster relief. ADRA's purpose is to serve humanity so all may live as God intended. For more information, visit ADRA.org.