SILVER SPRING, MD (December 22, 2021) – The Adventist Development and Relief Agency (ADRA) has stepped up humanitarian relief operations to aid more than 31,000 Venezuelan refugees and migrants to rebuild their lives in Brazil. ADRA has launched the ANA Project to provide food, as well as household and hygiene items to families in the cities of Boa Vista, Roraima, Iracema, Amajari, Mucajai, Caracarai, Rorainopolis, and Manaus. The ANA Project is locally known in Portuguese as the Food and Non-Food Actions for Venezuelan Migrants in Brazil.
The political turmoil, rampant violence, gang-warfare, food and medicine shortages, and lack of essential services have forced millions of Venezuelans to seek refuge in Brazil and other nations across the continent and beyond, according to the UN Refugee Agency (UNHCR). More than 260,000 Venezuelans have arrived in Brazil this year alone. (*Numbers subject to change daily.)
"Every day 600 men, women, children, and elderly civilians enter some of the poorest cities in Brazil on foot. Many families end up on the streets because local jurisdictions are unable to accommodate the growing number of asylum seekers while they wait for documents. It's extremely difficult for families to survive when they get here. They need food, basic everyday household items, and a roof over their head," says Eric Leichner, ADRA's regional emergency coordinator for Brazil. "The ANA Project has been a blessing to thousands of families since it was launched earlier this year. We have distributed more than 63,000 food vouchers, over 52,000 certificates for the purchase of hygiene products to prevent the spread of COVID-19, and more than 16,000 coupons for families to buy household goods and kitchen utensils. However, much more is needed to continue to help this community. Keep us in your prayers and keep supporting ADRA's work in Brazil."
ADRA is spearheading the ANA Project in partnership with local authorities and other non-governmental organizations.
Damelis Josefina Mosqueda, a 57-year-old seamstress, arrived in Brazil in 2019 with her three children: two of them severely disabled. Famine and medicine shortages forced her to sell everything she had to make the journey.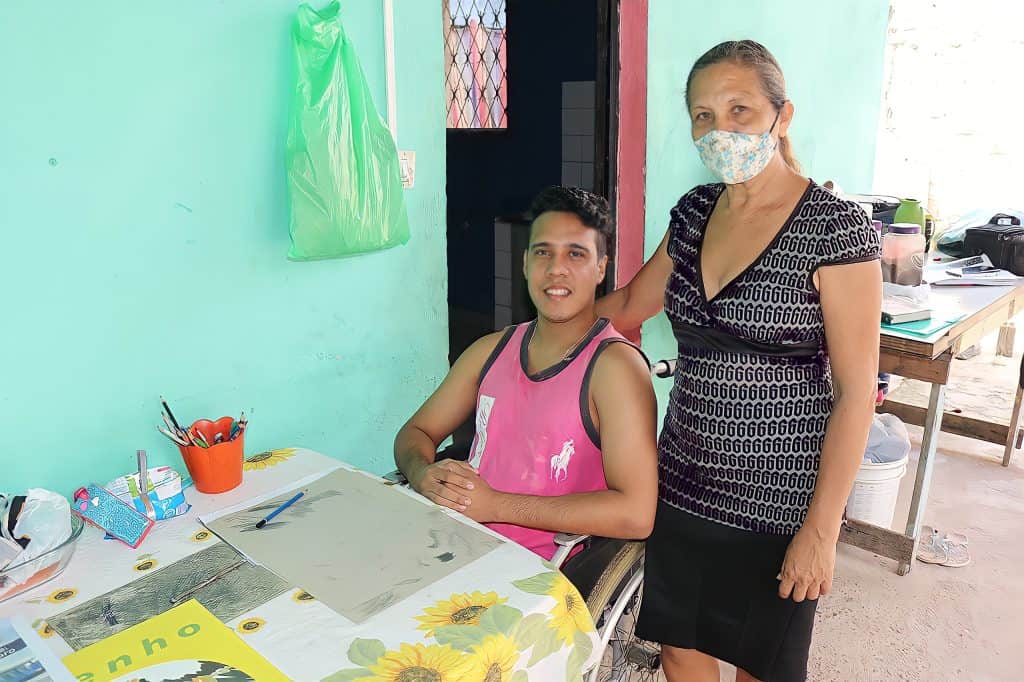 "I was afraid of leaving my country, but my health was more important and so were my children's lives. We ate once a day, so I had a lot of stomach pains. I was afraid to die. When I arrived in Boa Vista I weighed 83 pounds," says Mosqueda, an ANA Project beneficiary. "They help me with food, our home, my kitchen, and hygiene products. It's help from God, and it came at a time when I needed it most. I started to gain back my weight thanks to the assistance I received from ADRA."
ADRA has also launched COVID-19 prevention initiatives, as well as health, nutrition, and WASH support projects aimed at shelters and homeless occupations.
"ADRA has been analyzing the situation on the ground to better respond to the refugee crises in Brazil. We need to find more ways to assist Venezuelans especially families with small children living on the streets with poor hygiene. They need access to drinking water, hot meals, baby bottles, and infant formula, as well as medical care," says Fabio Salles, ADRA's country director of Brazil. "ADRA is looking at expanding emergency operations to improve sanitation by installing water fountains, toilets, and showers. Our humanitarian work is vast, but we are grateful to our partners and donors for helping us to continue to make a difference in the lives of the most vulnerable people in Brazil and other parts of the world."
Banner image: ADRA field staff provides food and essential supplies to Venezuelan families who seek refuge in Brazil. (Photo Credit: ADRA Brazil)
Journalists can secure interviews with ADRA representatives about this story at: press@ADRA.org.