We know ADRA supporters love wells as much as we do, but have you ever wondered what else is involved with providing a water source besides the drilling truck? ADRA works with each individual community to make sure a lot of vital factors are considered.
Safety. The story you'll read below is the perfect example of what can happen when precautions aren't in place for the safety of those who will use the well. The risk of injury or death is real.
Contamination. The goal of a well isn't simply to provide access to water, it is critical that the water is safe for use. If a well is not covered, protected, or treated from contaminants, the well we provide will still cause illness.
Location. Choosing a central location for a well is life-changing. Women and children who are usually in charge of fetching water will be safer without having to walk long distances and will be able to give more time to their work and education.
Ease. If you picture the traditional idea of a well, you probably imagine pulling up a heavy bucket of water. We try to make life easier and more accessible to those who need water with solutions like pumping water to faucets, building in disability accommodations, and even setting the water source within a kiosk that provides important information and essential goods.
Sustainability. What is the point of drilling a well if it can't be maintained when the drilling truck drives away? As always, ADRA uses local materials and labor as much as possible to make sure it can be maintained by the community.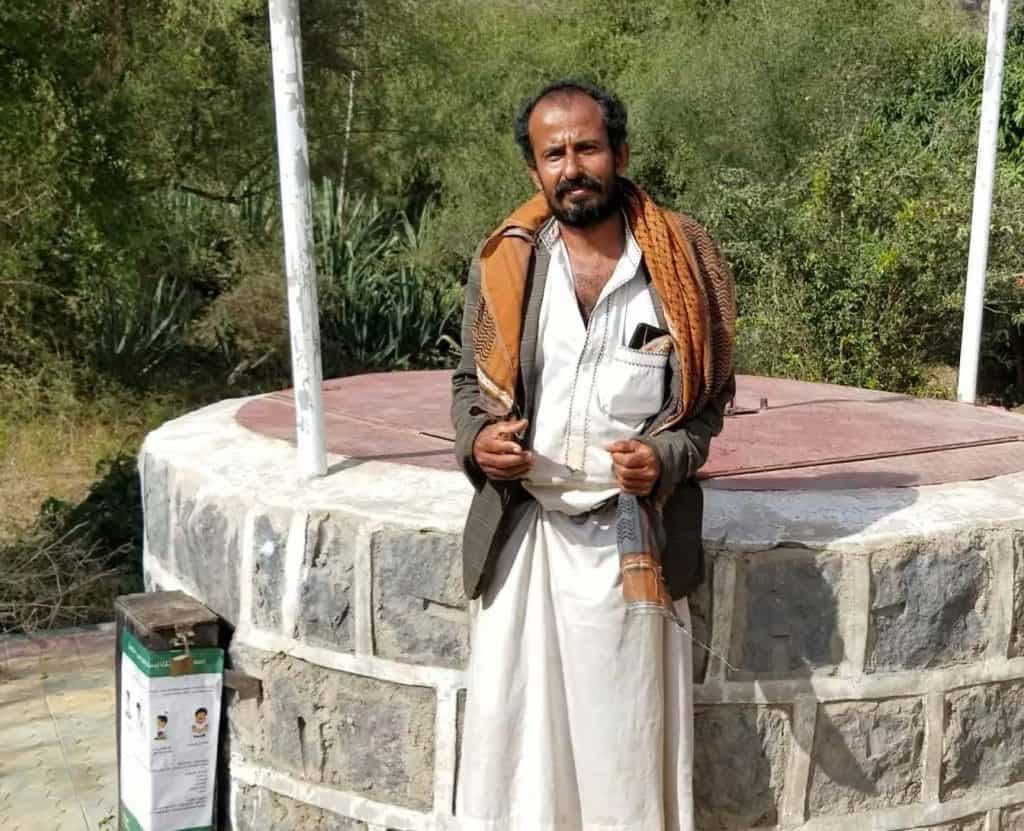 This isn't your typical ADRA well story.
We didn't need to drill a well for Khaled's village. The community already had their own well, which is a big deal in Yemen where more than 12 million people lack access to a safe water source.
But the deep scar Khaled points to on his stomach tells the story of why a well alone isn't enough for a community.
"I was getting water from the village well. I was helping my nine-month-pregnant wife, and I was also afraid for my children falling into the well," he said. "The village well was exposed, and the water is fetched by a bucket. After I reached the well and while I was pulling the bucket of water from the well, my feet slipped and my body fell into the well and fell on a piece of wood that was placed on the wall of the well, which broke through my stomach."
The fall was a defining point in Khaled's life. He was paralyzed by the incident, leaving him unable to work and support his wife, 12 children, and mother who suffers from chronic illness.
Unfortunately, his fall was not the only one of its kind in the village. Since his accident, two others have fallen into the open well and both died from the injuries they sustained. It's understandable that the daily chore of fetching water caused anxiety for the residents.
"We were in constant fear of women and children from falling into the well," Khaled said.
When ADRA met with community members, addressing these urgent safety concerns became the highest priority. The top of the well was built higher to provide a more secure barrier, and a cover was put over the opening. This covering both eased the anxiety of village residents and prevented contaminants from getting into the water supply.
In addition to making improvements to the existing well, ADRA installed a solar energy system for pumping water that replaced the need for pulling heavy buckets up from the deep well. A line from the well now pumps water to a water tank and faucets that have been installed in a central location and include treatment to kill bacteria.
This central location means the women and children who traditionally fetch the water now don't have to walk as far and can concentrate on other priorities. Isn't it amazing to realize that the location of a water source can affect how much time a child can spend in a classroom?
Having a safe water source accessible to so many has also dramatically improved the health of those in the village. Chronic diarrhea and diseases, including cholera, used to spread through the village, especially among children, but have now all but disappeared.
"The same way my fall in the well was a defining point in my life, [ADRA's] intervention was also a big difference for the residents of the village," Khaled said.
Ensuring close and easy access to water has results that go far beyond better health and safety in a village like Khaled's. For example, farmers in the area will likely see higher income with improved irrigation, more kids will be able to focus on their education when they can spend more time in the classroom than fetching water.