PHILIPPINES (January 15, 2021) – Heavy rain showers dampened regions in Central and South Philippines causing severe flooding. The tail-end of a frontal system, or TEFS, was to blame for the massive downpour, which occurred from December 30, 2020 and lasted into the New Year on January 3.
"This TEFS, combined with the intertropical convergence zone and a low-pressure area also caused heavy rains in Mindanao, South Philippines, and caused several rivers to overflow causing flooding in the town of Maigo," says Aimee Grace Tapeceria, ADRA's public relations officer in the Philippines.
Tapeceria says that more than 88,000 people were affected throughout four regions, according to the National Disaster Risk Reduction Management Council. There were an additional 6,817 individuals affected by another flooded region in Lanao del Norte.
"Local authorities reported that water levels reached as high as a person's chest and almost up to house ceilings in several areas, where hundreds of families had to evacuate," Tapeceria says. "Compared to four natural disasters from two months ago between October and November 2020, these floods were smaller, but still caused quite an impact."
The Adventist Development and Relief Agency (ADRA) provided cash assistance to 430 families in Negros Occidental in Central Philippines. More cash assistance will be provided to more than 400 families in Lanao del Norte in southern Philippines.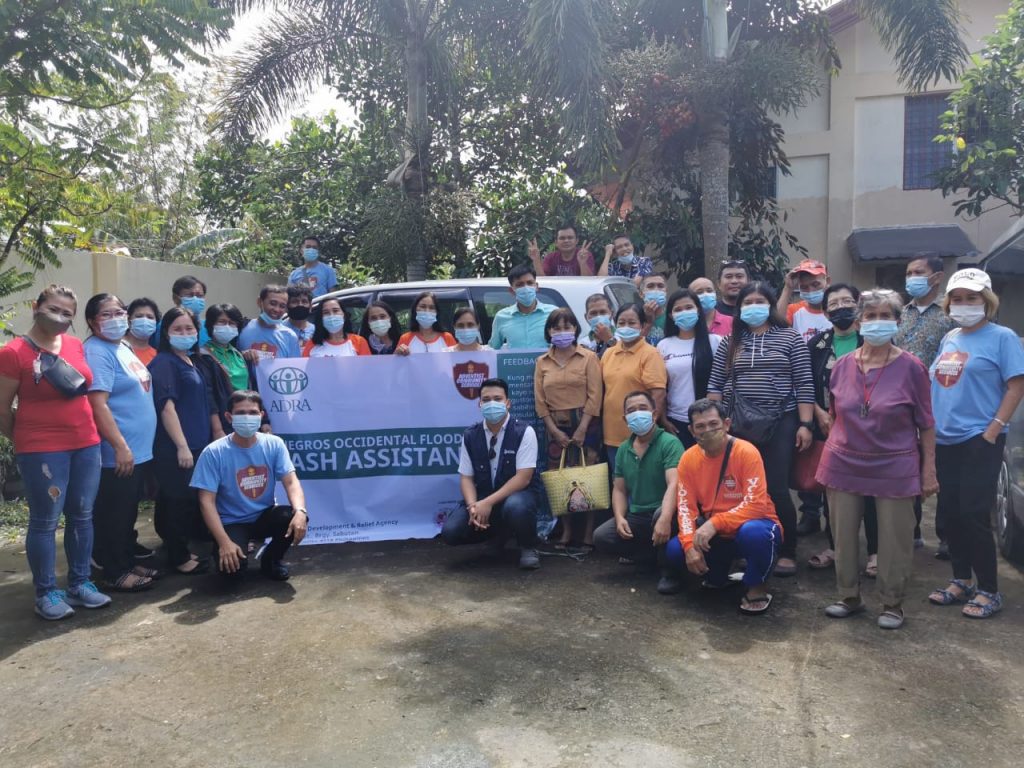 Tapeceria says that cash assistance is typically the logistical tactic of choice because it gives beneficiaries the flexibility to purchase their most urgent needs.
"Our emergency responses have been done in direct partnership with our local conference and mission Adventist Community Service (ACS) directors," Tapeceria says. "They work with ADRA to conduct needs assessments and data collection."
Tapeceria says that ADRA's distributions are smaller because the local government doesn't allow big gatherings to take place, especially during an ongoing pandemic.
"ADRA always emphasizes social distancing, wearing masks, and sanitizing of hands throughout the relief effort. All ADRA personnel have a protocol to follow to take precautions during the pandemic no matter the disaster we face," she says. "ADRA also gives ACS volunteers a complete orientation that keeps them well-informed about implementing distributions."
While restrictions on travel have been challenging, Tapeceria says the pandemic has opened up more ways to partner with the Adventist Church.
"In 2020, it has been an inspiring year for ADRA in the Philippines because of the support that the Adventist Church, both as an organization and individuals, are providing to lend a hand in the work of humanitarian aid. We are looking forward to developing additional partnerships with the church in 2021," says Tapeceria.
Learn more about ADRA's response to flooding in the Philippines at https://www.facebook.com/ADRAPhilippines/.
Journalist who wish to learn more about this story may email press@adra.org.
ABOUT ADRA
The Adventist Development and Relief Agency (ADRA) is the international humanitarian arm of the Seventh-day Adventist Church serving in 118 countries. Its work empowers communities and changes lives around the globe by providing sustainable community development and disaster relief. ADRA's purpose is to serve humanity so all may live as God intended. For more information, visit ADRA.org.