Without COVID-19 awareness in hard-to-reach areas, the elderly, homeless, and people with disabilities suffer
(SLOVAKIA) June 29, 2021 — From January to March this year, the country of Slovakia has witnessed its most COVID-19 cases, with nearly 100 new deaths daily, according to Worldometer, a real time world statistics database. The most vulnerable impacted are the elderly, with whom the Adventist Development and Relief Agency (ADRA) has been aiding. The death toll has been decreasing, according to local reports, but older adults, people without homes, marginalized communities and people with disabilities remain heavily impacted due to lack of access to COVID-19 resources.
"We are seeing the number of COVID-19 cases drop, which is good news, but we are concerned for elderly people, the homeless and people with disabilities who live in hard-to-reach locations in the country," says Stanislav Bielik, ADRA's country director in Slovakia. "Many people, including the marginalized Roma and homeless communities, are not aware of the facts about COVID-19, preventative measures, and there is fear that by the autumn months, the country may be hit by another wave of the COVID-19. To minimize the number of coronavirus cases, we want to ensure the most vulnerable are protected and that their wellbeing is intact to prevent them from getting this deadly virus."
Roma communities often live in over-crowded, substandard shelters, and people who are homeless have not benefitted from the same access to healthcare, hygiene information and COVID-19 related resources as the rest of the Slovakian population.
Additionally, the most vulnerable Roma and homeless communities were not receiving access to clean water and financial resources to purchase hand sanitizers and face masks, which makes them at risk to contracting the virus, according to Bielik.
Health Clinic on Wheels
"Health experts agree that the only way to mitigate the devastating consequences is to follow prevention measures and vaccinate a significant percentage of the population to prepare for future outbreaks," Bielik says. "The downside was that the elderly and people who were homeless or had disabilities couldn't come to the health clinics to get tested and/or vaccinated due to lack of transportation and mobility issues or couldn't register online because they were not computer savvy, so we decided we'd go to them."
Many people in Slovakia live in the countryside, many miles from larger towns, and have been discouraged to commute to vaccination centers because of the far distance. ADRA's country director thinks a mobile bus is the answer.
"We call it the HELP BUS, a mobile vaccination unit that we'll use to travel to hard-to-reach villages," says Bielik.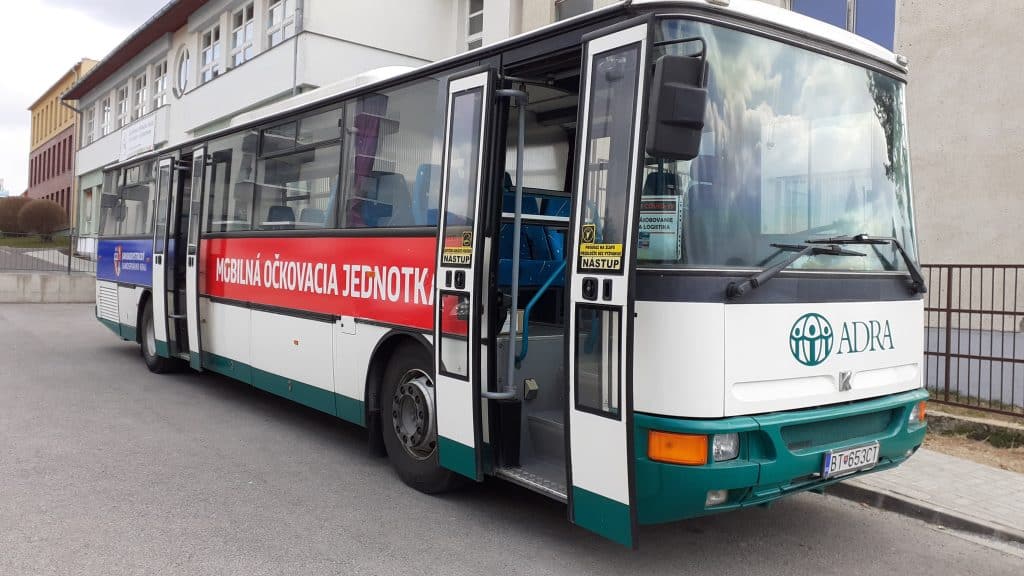 The bus was donated by a local bus company, which ADRA refurbished and equipped with technical control systems, a kitchenette and eating space for the medical and logistics team. The refurbished bus also includes a shower, a unit for the vaccination team and an examination room that will be stocked with a defibrillator, stretcher, wheelchair, oxygen device and first aid kit.
Through the mobile bus, ADRA will be able to reach approximately 20,000 people in several Slovak regions to help them understand what COVID-19 is and get them access to a licensed and certified medical team traveling with them who will help the communities make an informed choice about being vaccinated.
"We are working with district officials to get word out about the mobile bus's schedule and arrival," says Bielik. "The people in remote areas can rest assured that help is on the way."
Like a Good Neighbor, ADRA is There
In addition to living so far from health centers in major towns, some marginalized Roma and homeless communities have been impacted economically and unexpected health expenses have worsened the situation for impoverished families and individuals, including care homes for the elderly.
To help those in financial distress, ADRA has partnered with Amazon, a global e-commerce company, to assist.
"The lockdown restrictions in the country significantly strengthened online shopping, but as a result, customers weren't satisfied with the shipment of products and returned them. Since that's the case, Amazon will donate those returned yet brand-new goods to ADRA to distribute them to the marginalized Roma communities, homeless people, elderly, and people with special needs at care homes and to families who lost their source of income due to the pandemic," Bielik says.
Based on the nature of the product, ADRA will conduct ongoing assessments to manage the distribution of items.
ADRA will also collaborate with local Adventist church members to volunteer at care homes to provide social and psychosocial care, along with recreational activities.
"In the past months, we have been made aware that the elderly and people who have been physically or mentally disadvantaged have been facing social isolation, which has had a major impact on their health and well-being," says Bielik. "Our plan is to train 30 volunteers to support the elderly with psychosocial care, counter misinformation about COVID-19, and share what it means to get vaccinated in vulnerable communities."
Bielik adds that as a follow-up to the first training, ADRA plans to organize a volunteer camp at Pohorelska Masa care home for women with physical and/or mental disadvantages mostly from the Roma communities.
"The road to recovery from the pandemic is an uncertain one, however, what's certain is that people, regardless of who they are or what their status, all deserve care and full support," he says.
For updates about ADRA's work in Slovakia, visit HERE.
Learn more about how ADRA is responding to COVID-19 globally at ADRA.org.

Journalists who wish to secure interviews for this story, may email press@ADRA.org.
About ADRA
The Adventist Development and Relief Agency is the international humanitarian arm of the Seventh-day Adventist Church serving in 118 countries. Its work empowers communities and changes lives around the globe by providing sustainable community development and disaster relief. ADRA's purpose is to serve humanity so all may live as God intended. For more information, visit ADRA.org.