International humanitarian agency focuses on improving access to health resources among the most vulnerable and marginalized to reduce virus transmission
(THAILAND) October 6, 2021 — Thailand received its first COVID-19 case on January 13, 2020 and had been successful in containing the coronavirus until December 2020. As of January, COVID-19 cases increased drastically, according to local reports. Since September 29, the accumulated number of cases ballooned to 1.5 million with more than 10,000 new cases per day. 
Thailand authorities aim to administer 63 million doses in three stages before the year ends. The target population who would receive vaccines as declared by the local government were high-risk populations with underlying conditions, including frontline healthcare workers, laborers in the hospitality/service sectors, followed by the general population.
Identifying Those At-Risk
In Thailand, there are 2.3 million people who are reportedly migrants from Cambodia, the Lao People's Democratic Republic, Myanmar, and Viet Nam, according to Quentin Campbell, country director in Thailand for the Adventist Development and Relief Agency (ADRA).
"The population who are the most vulnerable and marginalized are migrants who provide a significant labor source of essential industries," says Campbell. Reports suggest that migrants constitute over 10 percent of Thailand's total work force.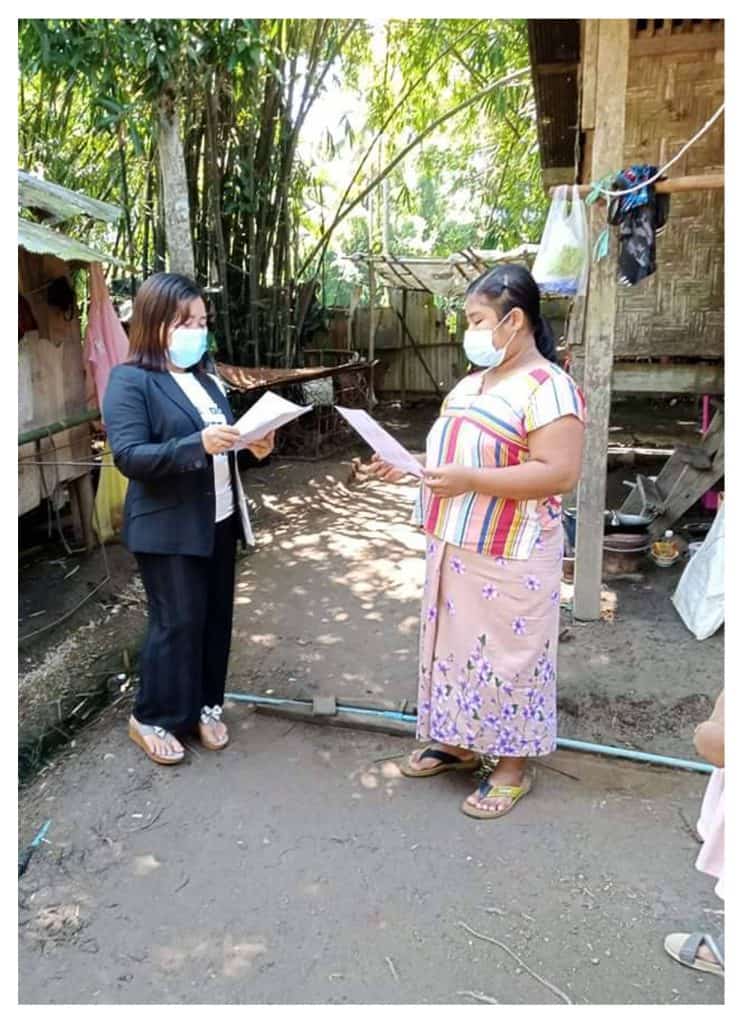 "In Thailand, many migrant workplaces have now become epicenters of COVID-19 transmission. Though the local government has made substantial progress providing public services to migrant workers, utilization of social and financial barriers remains due to added burdens of stigmatization, low-income status, lack of access to healthcare services and welfare programs," Campbell says.
Most migrants are undocumented and live in remote areas far from public services with limited access to COVID-19 prevention and vaccine information, according to Campbell. Migrants who registered in Thailand's public health insurance program will be eligible to receive a vaccine, but it's estimated only 51 percent of migrants have done so.
Campbell adds that agricultural migrant workers reportedly with less than a year's contract to work in the country are ineligible to join the program excluding them from receiving the vaccine, according to a 2019 Thailand migration report.
In January, the International Organization for Migration (IOM), the leading intergovernmental organization in the field of migration in Thailand, conducted a rapid assessment among 316 migrants in Mae Sot district (Tak province) and found that migrants were getting paid less than the average worker and work hours were reduced after the COVID-19 outbreak in Thailand.
IOM Thailand findings also indicated that roughly 21 percent of migrants were unable to find jobs, 68 percent reported an income reduction, 73 percent have access to face masks, 42 percent have access to hand sanitizer, and 59 percent reported they have not received information on COVID-19 in their areas.
Aiding the Helpless
"We are targeting seven migrant communities in Mae Sot, Tak Province bordering Myanmar, which is a common destination for migrants," Campbell says. "We also hope to provide aid to 5,000 migrant workers, including 1,000 school-age children."
To address increasing access to COVID-19 information among the migrant population, Campbell says ADRA will participate in coordination meetings and organize vaccine information campaigns to target 3,000 migrants, in collaboration with local Adventist churches and local authorities. Another 2,000 migrants will be reached through partnerships with local civil society organizations.
Additionally, he says there are plans to arrange hygiene awareness promotions that will include information about physical distancing, frequent handwashing, and mask wearing. More than 500 households are expected to receive hygiene items. Campbell expects that 85 percent of households provided with hygiene items will report regular use of at least one hygiene item to reduce exposure to COVID-19.
"Another barrier to tackle is communicating to migrants in their language," says Campbell. "Speaking their language and getting information to them in a format they understand will help build trust and increase the likelihood of the population applying effective health practices."
To do this, Campbell adds that information handouts will be disseminated in Burmese to meet the needs of the target group. Trainings will also be conducted to form community engagement teams who will assist the most vulnerable and marginalized within migrant communities, including persons with pre-existing conditions, children, elderly people, and women with low literacy to facilitate participation and empower them.
Additionally, ADRA will establish partnerships with local Adventist churches, public health sectors, and health facilities to engage community leaders who will play a crucial role as health awareness influencers.
"At the end of our response, the migrant communities we serve will be surveyed to gauge their thoughts about the COVID-19 virus and prevention information they receive," Campbell says. "It is our hope to see if perceptions among the migrant community changes concerning COVID-19 vaccines and assess what COVID-19 prevention means to them."
Learn more about ADRA's COVID-19 aid relief in Thailand HERE.  
Journalists who wish to secure interviews for this story may email press@ADRA.org.
About ADRA
The Adventist Development and Relief Agency is the international humanitarian arm of the Seventh-day Adventist Church serving in 118 countries. Its work empowers communities and changes lives around the globe by providing sustainable community development and disaster relief. ADRA's purpose is to serve humanity so all may live as God intended.