Families in the Pursat province receive food after fleeing submerged areas
Pursat, Cambodia (October 20, 2020) – The Adventist Development and Relief Agency (ADRA), in cooperation with the Cambodia Adventist Mission and local authorities, conducted food distribution assistance to 450 families who are affected by the ongoing flooding in Ou Tapong, Tropeang Chorng, Metoek, and Snam Preah communes, Bakan district, Pursat province.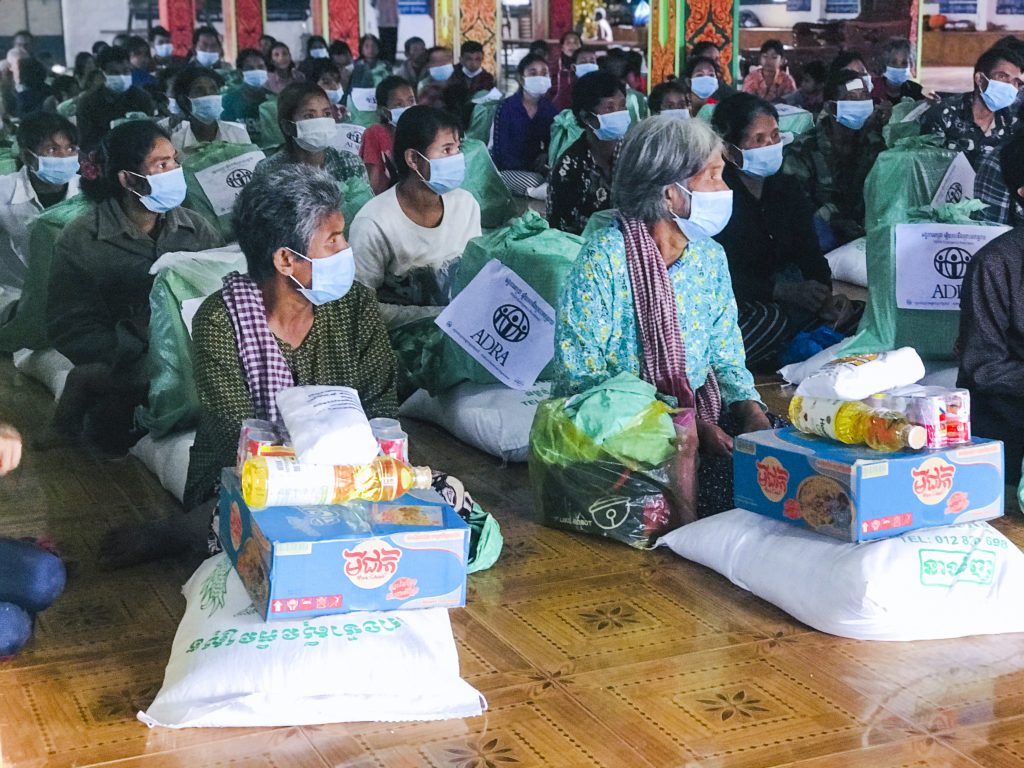 Between October 6 and October 13, regional tropical storms brought heavy rains to western Cambodia, particularly in the provinces of Pursat, Battambang, Banteay Meachey, Kompong Speu, and Kandal provinces, as well as some areas of the capital Phnom Penh. Heavy rains in the nearby mountains caused the main rivers to flood their banks into the surrounding areas both flooding homes, schools etc. as well as flooding rice and other crops in their fields for more than a week, to date. Many community members were forced to flee to higher ground taking shelter in places like local pagodas.
Nationally, it is estimated that at least 39,000 households have been affected and as many as 9,000 families have been displaced from their homes and this number is predicted to rise according to authorities in the region. There have also been at least 20 deaths attributed to the floods.
ADRA's health and food security project team in Pursat, Cambodia have been in touch with both government authorities and community members regarding the impacts and needs.
ADRA met with the Provincial Committee for Disaster Management (PCDM) on October 13 to gather information and finalized the immediate needs for humanitarian assistance in coordination with other stakeholders. ADRA's staff and partners conducted a rapid needs assessment at the local level within its development target areas. The ADRA team identified more than 400 households who have been displaced and/or severely impacted by the flooding. These households are from 18 villages in the ADRA development project target area. Between October 15 and 16, more than 450 families received food assistance kits, including rice, ramen noodles, canned fish, oil and salt to supplement basic needs.
"The flood came into our village and has made it difficult for us to get food. Our family is struggling to earn a living, so this support means a lot to us," says a 57-year-old widow with four children from Tropeang Chorng. An 86-year-old grandfather from the same community, expressed thankfulness to receive the support from ADRA.
Ms. Khiev Raning, deputy governor of the affected district was also grateful for the ADRA response. She stated that "the response was made in the affected communities in time for people who were in need of the assistance." She shared that she appreciated the support and good cooperation between ADRA and the local authority in this time of emergency, as well as the existing and ongoing ADRA projects.
Mark Schwisow, ADRA's country director in Cambodia, shared that "ADRA is so thankful for the generous support of our donor network and the hard work and dedication of the local project team and community partners in making this assistance available. Whether long-term development or the immediate needs of the current crisis, ADRA will be there to restore hope."
For more information about ADRA's response in Cambodia, visit https://www.facebook.com/ADRACambodia.
ABOUT ADRA
The Adventist Development and Relief Agency (ADRA) is the global humanitarian organization of the Seventh-day Adventist Church. Through its international network, The Adventist Development and Relief Agency is the international humanitarian arm of the Seventh-day Adventist Church serving in 118 countries. Its work empowers communities and changes lives around the globe by providing sustainable community development and disaster relief. ADRA's purpose is to serve humanity so all may live as God intended. For more information, visit ADRA.org.