(SILVER SPRING, MD) November 10, 2021 – In its quest to alleviate suffering from a serious water crisis, the Adventist Development and Relief Agency (ADRA) was recently awarded the Energy Globe Award for its solar powered water kiosks based in the Mocuba municipality of central Mozambique.
"The ADRA Solar Powered Water Kiosk pilot has taken more than three years of hard work by the dedicated team at ADRA Mozambique to perfect, but the innovation and dedication combined have allowed ADRA to develop a solid concept that if built upon could revolutionize safe water supplies in peri-urban communities where access to reliable piped water systems is limited," says Jason Brooks, senior technical advisor for WASH at ADRA International.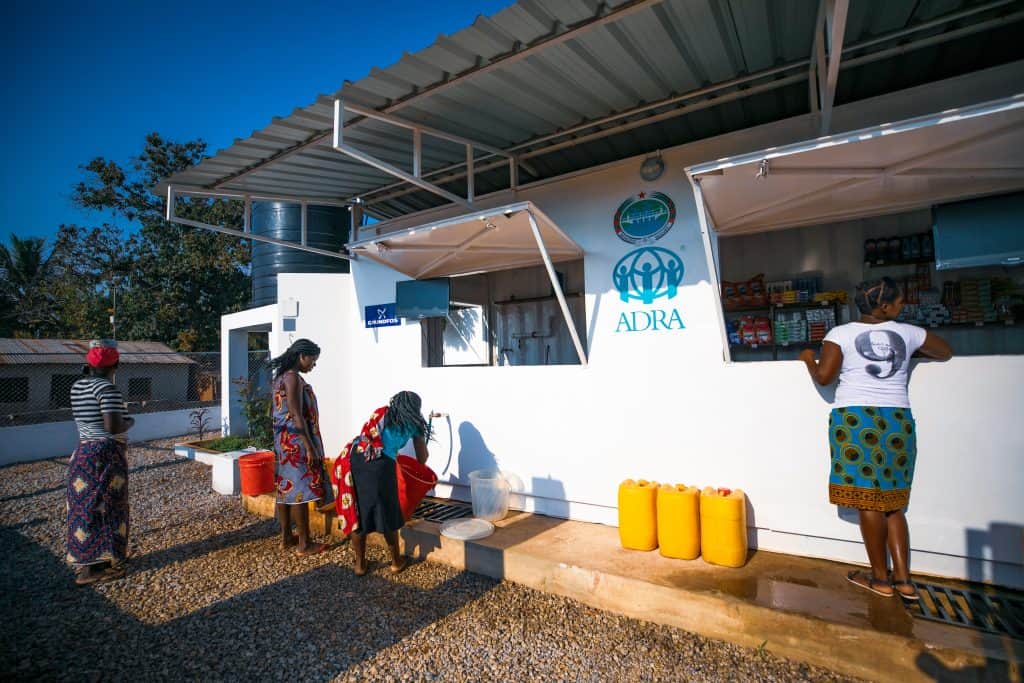 Brooks adds that the first three kiosks have proven the case for financially sustainable locally managed small water enterprises.
ADRA was among more than 200 countries who entered in the global competition. Reportedly, the competition received more than 30,000 submissions. 
Project categories included Earth, Fire, Water, Air, Youth, and Sustainable Start-Ups that increase energy efficiency, demonstrate sustainable use of the planet's resources, and contribute to the environmental education.
ADRA's project involved the Mocuba municipality where at least 80 percent of the population had been using contaminated water for their basic needs, posing serious health risks, including cholera and other waterborne diseases.
ADRA's objective was to increase the use of water kiosks as safe and sustainable drinking water sources in the targeted communities. Replacing the typical hand pumps and drilling to get access to safe water, ADRA installed three water kiosks, which were constructed from repurposed shipping containers.
The water kiosks also treat the water with the aim of providing communities with reliable long-term access to safe drinking water through an enterprise-based market-based model. Two of the three kiosks are powered by renewable energy and the pumping is done by means of solar energy.
Complimentary services such as cellphone and electricity credits and hygiene products are also provided at the kiosks to boost revenue and pay operating and maintenance costs.
Thanks to the solar powered kiosks, more than 5,000 households are receiving safe water for basic needs while the kiosks also provide employment and access to basic service and hygiene supplies for the communities.
"ADRA would like to thank our partners Grundfos and the General Conference Adventist Health Ministries as we look forward to scaling up this innovation around the world in the coming years to do our part in reaching the more than four billion people who struggle without reliable access to affordable safe water," Brooks says.
Learn more about ADRA's national award HERE.
For more information about ADRA's water kiosk in Mozambique, click HERE.