VYBORG, RUSSIA (July 14, 2020) – Katya felt the weight of the world on her shoulders as she walked toward home. No job—due to the novel coronavirus and no prospect of getting a job in Vyborg, Russia.
Business after business had closed their doors due to the quarantine. Companies sent thousands of people home with unpaid leave. With a bad economy and children to feed, Katya was filled with anxiety and questions about the future. How long would the crisis last? What would become of her family? How would they survive?
Fortunately, one of her friends told her about a global humanitarian organization called the Adventist Development and Relief Agency (ADRA) that was hiring seamstresses to make face masks and other protective gear. Katya phoned ADRA and described her situation, pleading for a job.
At the time, she didn't realize that ADRA is all about helping people. Nor did she know that the products that she was paid to make were donated to hospitals and other institutions that were fighting COVID-19. As part of this project, ADRA planned to sew and distribute 70,000 protected facemasks in Russia. In addition, their goal was to help people financially who lost their jobs during the crisis.
At first sewing facemasks was just an opportunity to receive a salary so that Katya could feed her children, but as she spoke with coworkers and ADRA employees, she began to understand that this was more than just a job. Thanks to her work, many doctors and healthcare professionals would be able to perform their duties and treat people without getting sick themselves.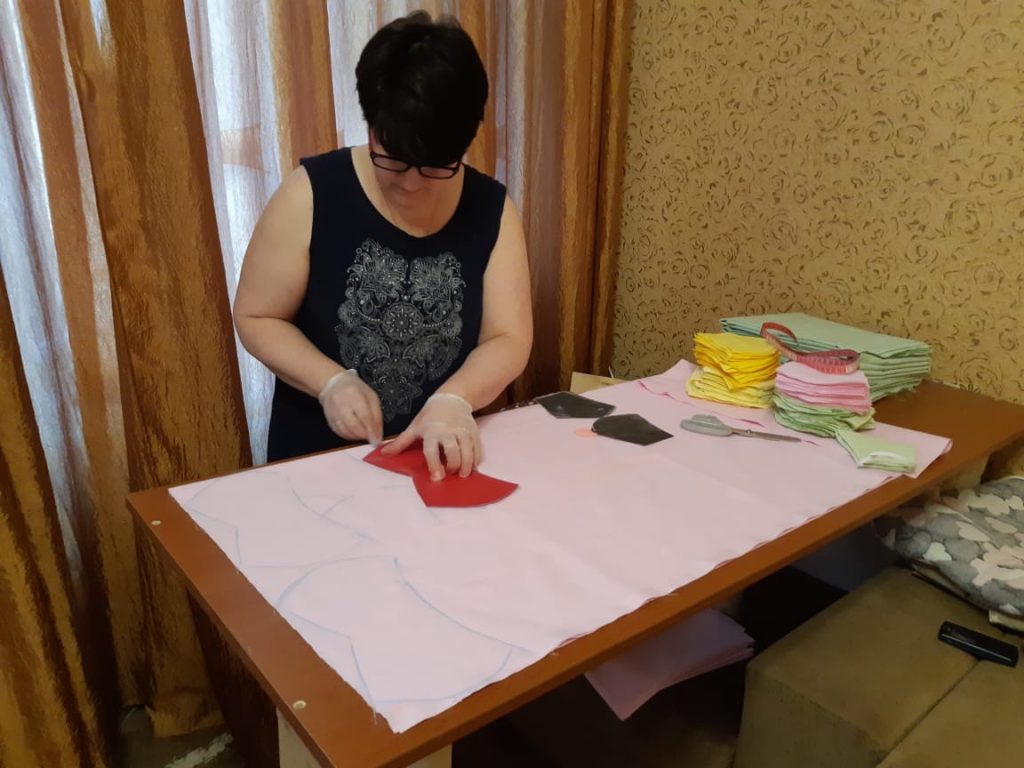 There was still fabric left over once the projected amount of gear was made. By this time, Katya admired and respected the concept behind ADRA. She wanted to help people just like she had been helped. She volunteered to sew the remaining fabric without getting paid, adding an additional 500 masks to be given away.
Not long after, Katya's mother-in-law became so ill that Katya called an ambulance. When she saw the paramedics coming into her home, she was ecstatic to see they were wearing the face masks she had sewn while participating in the ADRA project.
Russia ranks third in the number of cases of coronavirus, after the United States and Brazil. According to Denis Baratov, ADRA Euro-Asian Division director, there were 641,156 COVID-19 cases reported in Russian Federation as of June 29. In April, 75 percent of all registered cases in the country were in Moscow and the region. Today, the number of infected people in Moscow is 34 percent of the total number of cases in the country.
Baratov continues, "In the nearest future, ADRA in Russia plans to focus its programs on the livelihoods and education. This is due to the fact that many people have lost their jobs or private businesses because of the more than two-month lockdown. Many private businesses are still closed. Financial reserves of the people were completely depleted or coming to an end."
Baratov notes that the situation is very difficult in spite of the efforts of the government. "ADRA will collaborate closely in Russia with the local church…We are much stronger when we are together."
For journalist inquiries, please email press@adra.org.
About ADRA
The Adventist Development and Relief Agency is the global humanitarian arm of the Seventh-day Adventist Church serving in 118 countries. Its work empowers communities and changes lives around the globe by providing sustainable community development and disaster relief. ADRA's purpose is to serve humanity so all may live as God intended. For more information, visit ADRA.org.