(KENYA) July 2, 2020 – As the novel coronavirus (COVID-19) pandemic continues to spread across Kenya, lockdowns, closure of schools, and cancellation of public meetings have caused immeasurable disruptions.
Even prior to COVID-19, persons with disabilities were living in a world of isolation, yet the effects of the health crisis have been keenly felt. Samuel Onang'o, a father of three, is a cobbler, or shoemaker, in Kibera—he is also physically disabled.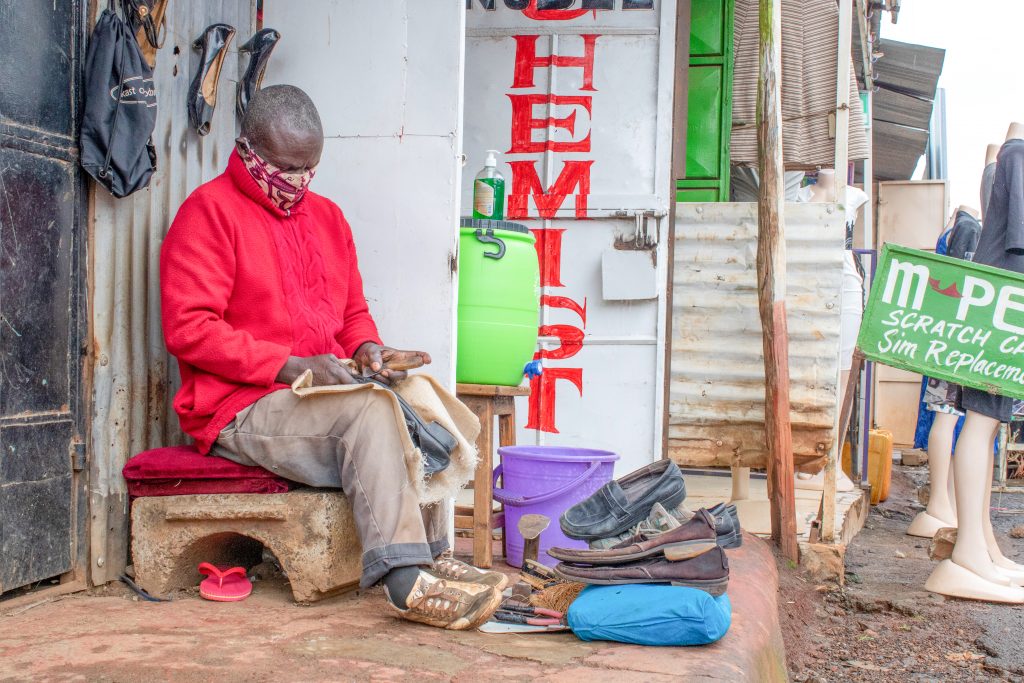 His wife and children travelled to another region of the country in hopes of returning in a week, but the government announced a lockdown for Nairobi. Over two months passed, Samuel has had to learn to survive alone in his one-roomed tin-walled house.
"Before coronavirus, I was earning up to KES 1,000 (US $10) a day. This was enough for my family's upkeep and my children's school fees. Now, I barely make KES 200 (US $2) on a good day. Yesterday, I made only ten shillings," says Onang'o.
The loss of income has been occasioned by the massive job losses for the people living in Kibera informal settlement who now prefer to spend whatever little money they have on food and other essential goods.
As a measure to curb the spread of COVID-19, the government ordered all people operating a business to install hand-washing stations. This presented another challenge to Onang'o.
"We have to buy water here in Kibera. Sometimes, I don't even have enough for my domestic use, but I have to buy water for my handwashing station at work, lest I be arrested," Onang'o says.
Onang'o added that he could get water at the pump, which is less expensive, but he has to pay more for delivery services, which he cannot afford. He also says that whenever he has to go to the government offices to get food, it takes him up to two hours due to his condition.
"I was going to close down my business if ADRA did not come to my rescue. They gave me 500 ml of hand sanitizer, two bars of laundry soap and a bar of anti-bacterial soap. I will use some of the soap for my hand-washing station at my business premises once I run out of soap and use whatever I will have remaining for my domestic use," Onang'o says.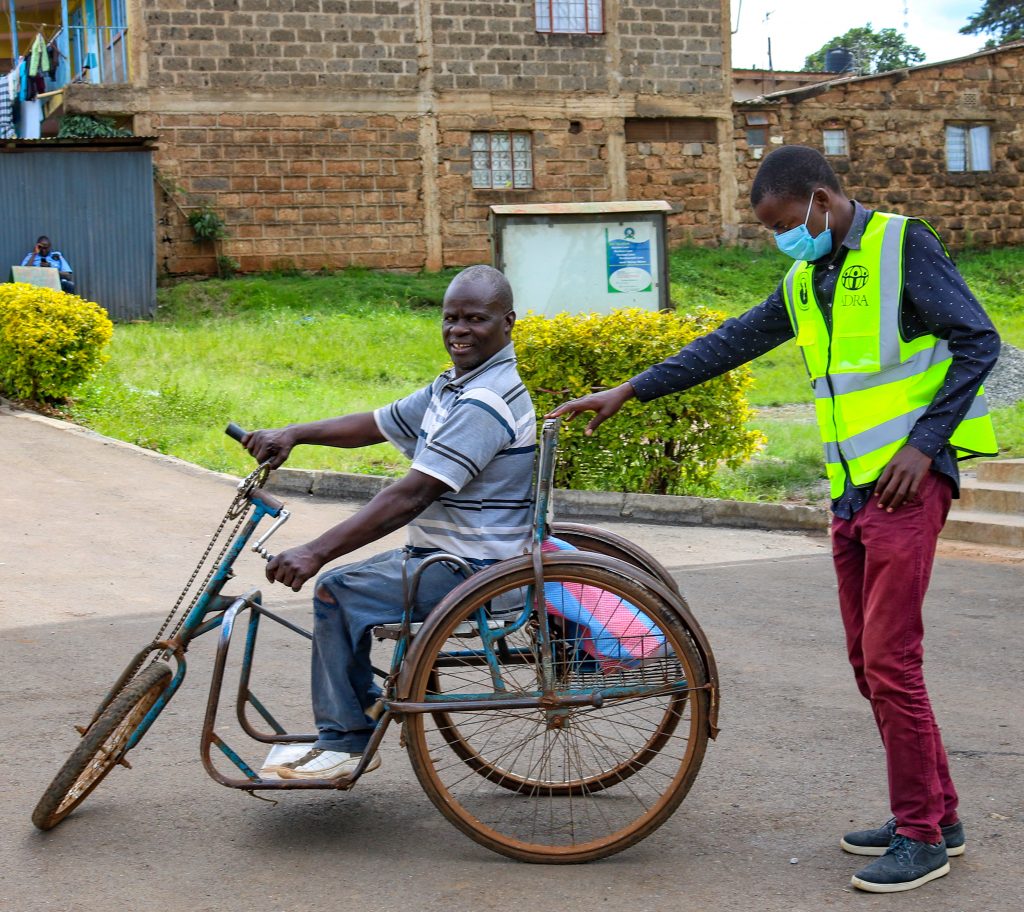 Persons with disabilities, like Onang'o, face immense barriers not just in their business, but in accessing government services and relief assistance. ADRA has met with nearly 60 households who have similar experiences or who have family members who struggle because of their disabilities.
ADRA provided hygiene kits comprised of hand sanitizers, bar soap, medicated soap and toilet papers to families with people who are disabled. Most of their caregivers lost jobs due to coronavirus. ADRA also did cash transfers to help them buy food, medication, and even pay their outstanding house rents. The cash transfer helped the families increase access to food at the household level.
"To these families, ADRA has been their hope in times of need. When they felt forsaken and isolated, ADRA was to them the friend that sticks closer than a brother. Our COVID-19 response will be incomplete as long as persons with disabilities are left behind," says John Ougo, ADRA's project manager in Kenya.
"The volunteers from ADRA came for me at my place of work and took me home after receiving the supplies from the Kibera Adventist church. I felt loved and cared for. No one has ever done this to me before."
Learn more about ADRA's work in Kenya at ADRAKenya.org.
For journalist inquiries, email press@adra.org.
ABOUT ADRA
The Adventist Development and Relief Agency is the global humanitarian arm of the Seventh-day Adventist Church serving in 118 countries. Its work empowers communities and changes lives around the globe by providing sustainable community development and disaster relief. ADRA's purpose is to serve humanity so all may live as God intended. For more information, visit ADRA.org.